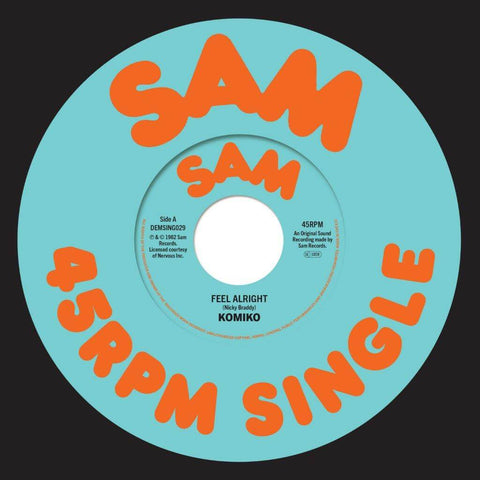 RELEASE
Komiko - Feel Alright
LABEL:
Demon Singles Club
PRE-ORDER ITEM
Expected in stock between 7th - 21st July
PLEASE ORDER PRE-ORDER ITEMS SEPARATELY FROM IN STOCK ITEMS IF YOU WOULD LIKE TO AVOID DELAYS TO YOUR ORDER/S
Remastered reissue of another stone cold New York club classic from the legendary SAM Records label - home to so many fabulous disco/boogie recordings from the 1980s. • Pure early 80s electronic disco joy for the packed, sweaty dance-floors. A true boogie classic, a huge club hit that got spun from The Garage to the streets of London. • Not much is known about Komiko, an undercover studio outfit that featured guest vocals Carol Williams, Tracey Weber and Vicky D. This single is their sole release. • Remastered by Phil Kinrade and presented in a 7" Discobag sleeve.
Add to cart