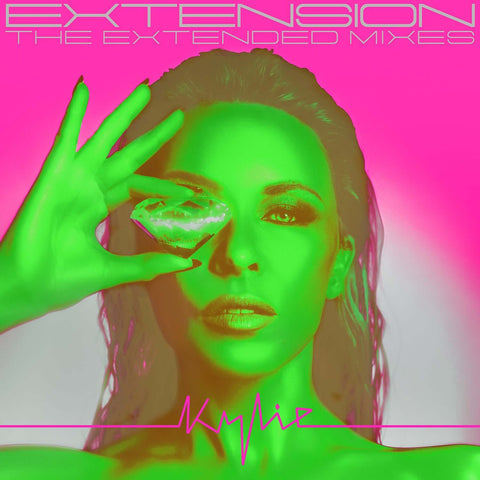 RELEASE
Kylie Minogue - Extension (The Extended Mixes)
LABEL:
BMG
PRE-ORDER ITEM
Expected in stock between 8th - 22nd December
PLEASE ORDER PRE-ORDER ITEMS SEPARATELY FROM IN STOCK ITEMS IF YOU WOULD LIKE TO AVOID DELAYS TO YOUR ORDER/S
Kylie's Number 1 album 'Tension', featuring viral hit 'Padam Padam', was released to widespread acclaim in September 2023 and revered as 'her most irresistible release in decades'. Extension (The Extended Mixes) features extended versions of all 11 tracks from the album on neon pink and green splatter clear double vinyl in a gatefold sleeve. Kylie's glittering career has seen her amass sales of over 80 million records worldwide, 5 billion streams and 9 UK No 1 albums. Her multiple awards include 3 BRIT awards, 2 MTV awards and a Grammy. She is the only female artist to score a No 1 album in five consecutive decades in the UK. Her 2019 Glastonbury performance was the most-watched TV moment in the festival's history. In so many ways she stands alone in the pop arena – a superstar artist whose constant reinventions and explorations keep her firmly rooted in the present whilst defining and celebrating much of our collective past.
SIDE A 1. Padam Padam (Extended Mix) 2. Hold On To Now (Extended Mix) 3. Things We Do For Love (Extended Mix)
SIDE B 1. Tension (Extended Mix) 2. One More Time (Extended Mix) 3. You Still Get Me High (Extended Mix)
SIDE C 1. Hands (Extended Mix) 2. Green Light (Extended Mix) 3. Vegas High (Extended Mix)
SIDE D 1. 10 Out Of 10 (Oliver Heldens feat. Kylie Minogue) (Extended Mix) 2. Story (Extended Mix)
Add to cart