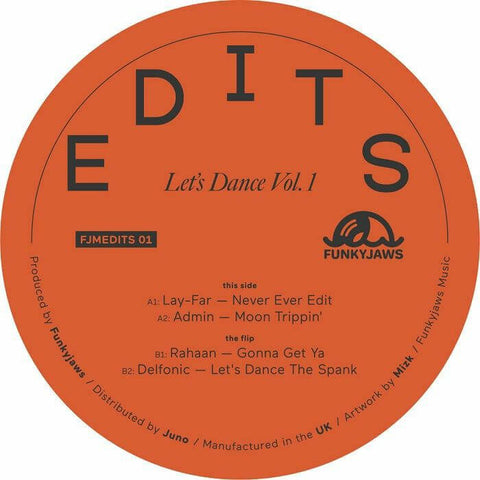 RELEASE
Lay Far / Admin / Rahaan / Delfonic - Let's Dance Vol 1
LABEL:
Funkyjaws Music
PRE-ORDER ITEM
Expected in stock between 12th - 26th January
PLEASE ORDER PRE-ORDER ITEMS SEPARATELY FROM IN STOCK ITEMS IF YOU WOULD LIKE TO AVOID DELAYS TO YOUR ORDER/S
Funkyjaws Music launches a new edits series here with four absolute dons of the form on one vital 12". It's Lay Far that kicks off with 'Never Ever Edit' which is all horn-led excitement and upbeat disco claps and kicks before Admin's 'Moon Trippin' takes a more slow and soulful approach. When it comes to edits few are more essential than Chicago's Rahaan who kicks off the B-side with 'Gonna Get Ya', a leggy funk number infused with cosmic synth rays and warm piano chords. Delfonic shuts down with the loose percussive jumbles and jazzy vibes of 'Let's Dance The Spank'. A fine start to the series with volume two already in the works.
Add to cart