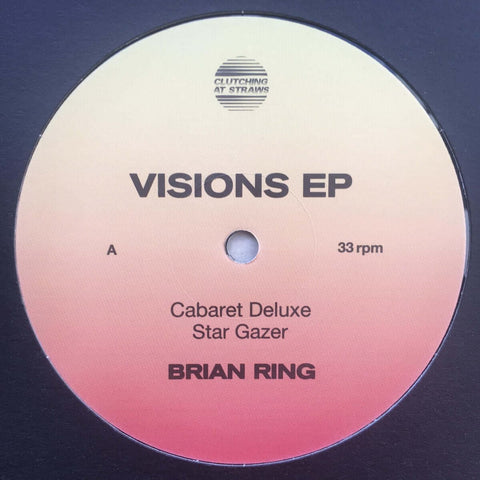 RELEASE
Brian Ring - 'Visions' Vinyl
LABEL:
Clutching At Straws
WAREHOUSE FIND
Visions EP , an ode to the heroes, creating that certain Joie de Vivre in the new world order. Visions serve like a bouquet of treats firing on all cylinders.
Cabaret Deluxe kicks off with an uplifting celebration of hooks, horns , bells and efx. Delicately placed over a revving arpeggiated disco bass line. Star Gazer reminds us of those long cherished summer days. Those stand out numbers sounding extra lush in the sunshine.
Night Tribe takes the intensity up yet again with a Moroder type Caribbean workout. Organs and Horns heavenly intertwined.
Disco Nomad is as playful as it is sparse. Smoothly crafted vox cuts glide over a seductive bassline with drum hits sprinkled throughout.
Add to cart