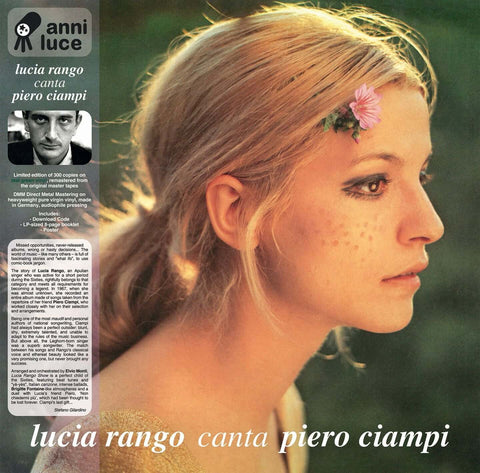 RELEASE
Lucia Rango - Lucia Rango canta Piero Ciampi
LABEL:
Anni Luce
Voted "Best Italian Reissue" of 2022 by influential Blow Up magazine, "Lucia Rango canta Piero Ciampi" is finally available again on teal green vinyl. Deluxe Limited Edition of 300 copies, fully licensed and remastered from the original analogue master tapes. DMM Direct Metal Mastering on heavy weight pure virgin teal green vinyl, made in Germany, audiophile pressing.
The story of Lucia Rango, an Apulian singer who was active for a short period during the Sixties, rightfully belongs to that category and meets all requirements for becoming a legend. In 1967, when she was almost unknown, she recorded Lucia Rango Show, an entire album made of songs taken from the repertoire of her friend Piero Ciampi, who worked closely with her on their selection and arrangements. Being one of the most maudit and personal authors of national songwriting, Ciampi had always been a perfect outsider: blunt, shy, extremely talented, and unable to adapt to the rules of the music business. But above all, the Leghorn-born singer was a superb songwriter. The match between his songs and Rango's classical voice and ethereal beauty looked like a very promising one, but never brought any success.
Arranged and orchestrated by Maestro Elvio Monti, and embellished by the participation of Alessandro Alessandroni's I Cantori Moderni, the record is a perfect child of the Sixties, featuring beat tunes and "yè-yès", Italian canzone, intense ballads, Brigitte Fontaine-like atmospheres and a rediscovered duet of Lucia with her friend Piero, Non chiedermi più, whose recording was known among insiders at the time but sadly appeared to be lost forever. Ciampi's voice lives again in a song that has remained unreleased for more than 50 years within this new expanded version of Lucia Rango Show, thanks to the long research of journalist Lucilla Chiodi (Musica Jazz). Needless to say, the album is an enormously valuable historical document for all fans of Ciampi's output and Italian music in general: along with classics such as Fino all'ultimo minuto, Quando il giorno tornerà and Hai lasciato a casa il tuo sorriso – all originally included in Ciampi's first LP released under the alias Piero Litaliano in 1963 – Lucia Rango's voice consigns to history as many as six songs conceived and written specifically for her recording debut by Ciampi along with Elvio Monti. To date, Rango's invaluable interpretations are the only versions ever recorded of Samba per un amore, Il tuo volto, Stasera resta qui, Primavera a Roma, Ti ho sognato and Sono stanca.
Add to cart