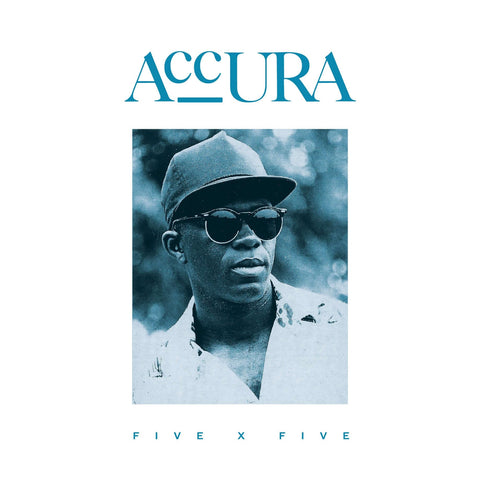 RELEASE
Accura - 'Five X Five' Vinyl
LABEL:
Invisible City Editions
Invisible City continues to celebrate its 10th anniversary as a record label by reissuing the overlooked 1994 UK LP Accura - Five x Five!
The best records make you want to grab the steering wheel and feel the sunny coastal drive. Frank Ed's unique blend of genres on his LP "Five x Five" does exactly this, melting G-funk, smoothie Rnb and NYC Disco a la Larry Levan, a genre he coined "Street Jazz".
A Ghana expat inspired by the endearing levity of the sounds of Hilife along the Gold Coast, Frank Ed fuses downtempo keys and throbbing basslines on the opener "The Vibe". "Groove Control" is a euphoric minimal disco gem teasing the padlocked grooves of Gwen Guthrie and the West End setting sun into a fiery Loleatta sample that sparks into a fiery vocal "You got me burning up". Dervish vibraphones, inspired by the Jazz-Funk renaissance, mesmerize the interlude "Ghetto Strings". The punchy sampledelic psychedelia of conscious hip hop continue with the car sounds of "Jazz Maiden" opening with a screeching car halt, alongside MCs Cap D and Darkstorm rapping about a girl on the town, before being snapped and interjected by a female vocal chiming in"Excuse Me!" "Freestylin" is a top down portamento G-funk glider, a nod to everything from the West Coast hip hop highway. "The Good Times'' - a CD-hidden only cut - is the real jewel here, emblematic of Frank Eds distinctive style. Expect low slung, nasal rapping and sine wave G funk grooves paired with lyrics about baggy jeans and Kangol kits that land with the chorus: " I walk the walk I pay the price of this hip hop rhyme." The pacific highway drive continues with "Summer Jazz" a breezy cruiser with the line, "Just move your body and slow…Summer Jazz." You can feel the sun and wind in your hair as the keys trill along the reverb vocals of "I Feeeel It."
This pressing Includes two other CD-only releases featuring the NHB remixes of "Feelin Jazzy" and "Summer Jazz." An essential LP, lovingly remastered and adjacent to the African diaspora genre UK Street Soul and the fervent UK RnB explosion of the early 90s. Glimmering with the disco ball of The Paradise Garage and the simmering smoothness of bumpin' West Coast hip hop. Official Limited Pressing made in collaboration with Frank Ed and Toronto local selector Matt Stein. Not to be missed! Tip!
Add to cart