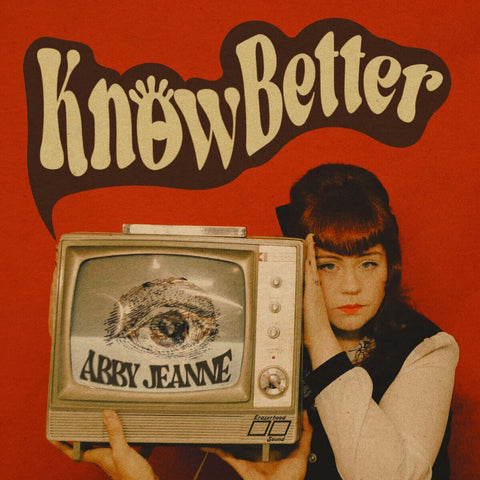 RELEASE
Abby Jeanne - Know Better
LABEL:
Eraserhood Sound
PRE-ORDER ITEM
Expected in stock between 28th April - 12th May
PLEASE ORDER PRE-ORDER ITEMS SEPARATELY FROM IN STOCK ITEMS IF YOU WOULD LIKE TO AVOID DELAYS TO YOUR ORDER/S
Latest release from Abby Jeanne on Philadelphia record label Eraserhood Sound. Features signature analog synth & soul production from Eraserhood Sound. Abby Jeanne been featured on national radio stations including The Current in MN, Wyms-Radio in Milwaukee, and KUTX in Austin. Abby's latest 45, available in classic black vinyl. Abby Jeanne has been an artist her entire life. While growing up in Milwaukee, WI, she was socially adopted by a Rock N Roll cafe cult, where she wrote music, painted, and started her deep infatuation with the 60s pop, soul, and rock n roll records via the haunted jukebox that lived there. A series of family tragedies left Abby living in a car with her guitar, which led to her traveling overseas and carving out a music career for herself. Today, the now NYCbased multimedia artist is back with a brand new 45, Know Better / Sage and Cigarettes. Both of these unforgettable tracks feature Eraserhood Sound's signature in-house analog synth and soul production, and they represent some of Abby's most inspired work to date. A-side "Know Better" is a rollicking pop-soul party-starter that features a four on the floor beat, electrifying guitar riffs, and deceptively profound lyrics that examine the selfishness and vapidity of today's society. On the flip side, "Sage and Cigarettes" is one of the most powerful and intimate songs Abby has ever recorded. The track, with its slow-burning shuffle and classic instrumentation reminiscent of Otis Redding's most emotional work, is a direct reflection of her experience healing as a traumatized woman in a modern world. Together, these two songs showcase the extremely talented, complex, and exciting Abby Jeanne, an artist who is undoubtedly ready to take the world by storm in 2023 and beyond.
Add to cart