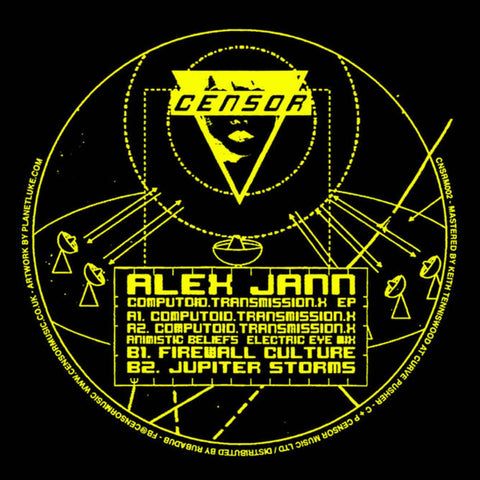 RELEASE
Alex Jann - Computoid Transmission X
LABEL:
Censor
Media Condition: Near Mint
Sleeve Condition: Near Mint
Alex Jann returns to Censor for the label's second excursion into the unknown with three direct communications and a mix of the title track from Rotterdam's Animistic Beliefs. The EP's title track Computoid.Transmission.X is a pulsating drum workout laced with dystopian pads, laser-cut leads, anxious bass lines and an evocative mutant vocal from an A.I. system gaining consciousness. Animistic Beliefs create a darker texture in their Electric Eye Mix of the title track, sending the vocal and lead sound straight through the stratosphere via complex bass and arp phrases that filter and stalk around the lead bringing a deeper and more contrasting A2. Firewall Culture comes as an intoxicating trip on the B1 with off- world FX, feral acid lines and a spacetime-defying style of vocal that haunt Alex's work. Jupiter Storms on the B2 ascends the EP to a higher plane with deep washes created from evolving pads adding space and movement to the final track of the release, all accented with glacial micro drops, syncopated beats and tight trickling synth sections. The release was mastered by Keith Tenniswood at Curve Pusher.
Support from: DJ Stingray, Dave Clarke, Solid Blake, Afrodeutsche, Alienata, Posthuman, London Modular Alliance.
Add to cart