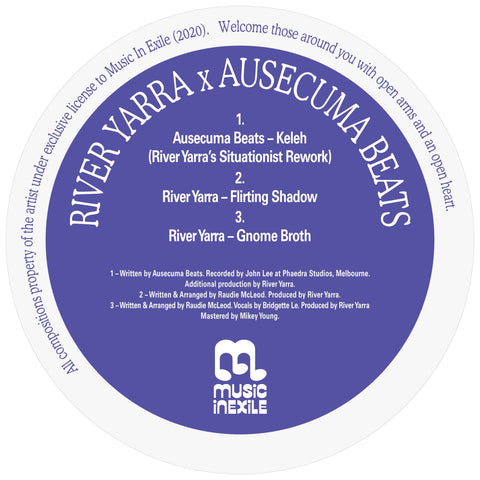 RELEASE
Ausecuma Beats x River Yarra – Keleh (River Yarra's Situationist Rework)
LABEL:
Music in Exile
PRE-ORDER ITEM
Delayed - expected in stock between 15th - 29th January

PLEASE ORDER PRE-ORDER ITEMS SEPARATELY FROM IN STOCK ITEMS IF YOU WOULD LIKE TO AVOID DELAYS TO YOUR ORDER/S 
Music in Exile REMIXED presents Keleh (River Yarra's Situationist Rework), the first track from the upcoming River Yarra x Ausecuma Beats REMIXED EP. In this newest release, we are joined by River Yarra, a producer and DJ who spawned upstream from Melbourne's Yarra River in a quiet, leafy suburb. Rooted in percussion, rhythm and experimentation, River Yarra's honest musical output crawls across an entrancing range of tempos and styles, with his trademark deadly serious humour and mature, playful spirit. "When approaching the remix of Keleh by Ausecuma Beats I knew that I didn't want to rely on the tried and true tropes of music production styles. Feeling disenfranchised with trending genres in the electronic dance music sphere, I instead embodied the spirit of rhythm present in the music of Ausecuma Beats to use as the foundation for the remix. I also tried to draw sonic parallels between the main concepts of the artistic movement Situationism and the lyrics of Ausecuma Beats." - River Yarra This release sees River Yarra rework original music from Ausecuma Beats.
Vinyl, 12", EP 
Add to cart