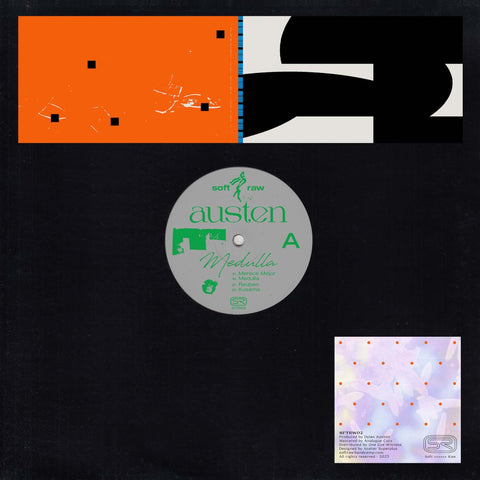 RELEASE
Austen - Medulla
LABEL:
Soft Raw
PRE-ORDER ITEM
Expected in stock between 3rd - 17th March
PLEASE ORDER PRE-ORDER ITEMS SEPARATELY FROM IN STOCK ITEMS IF YOU WOULD LIKE TO AVOID DELAYS TO YOUR ORDER/S
True to her mission to keep the possibilities open from release to release, Danielle's Soft Raw label brings through the supple, cybernetic sound of Austen. The London-based producer's debut EP is brimming with infectious energy and inventive swerves, providing plenty of heat for the more mutant-minded corners of the club. 

Medulla actually opens up with a more contemplative side of Austen's sound, leaving the beats to one side and letting a sharply rendered synth line plot a course through 'Merece Mejor's hazy pads and shifting textures as an updated variation on the ambient techno tradition. 

'Medulla' itself instantly dispenses with the pleasantries and jacks up the tempo, offering a fast-paced but light-footed rip through acidic techno with more than a little sprinkling of braindance on its corn flakes. The edits and fills are crafty, the sound design tweaked, and there's space for surprise at every turn without derailing the floor-focused energy. 

'Reuben' offers up a knottier broken beat construction with dense percussion locked into a rolling locomotion, while 'Kusama' summons the spirits of dubstep and channels them into a lean, intricately detailed piece peaking just above 140. As an added bonus, Austen also offers up an exclusive edit as a free download which throws the spotlight on the cheekier end of his approach in the club. 

Soft Raw continues to explore the contrast between opposing qualities in cutting-edge dance music, reflecting Danielle's taste as a selector and giving a platform to the most exciting new producers. 
Add to cart