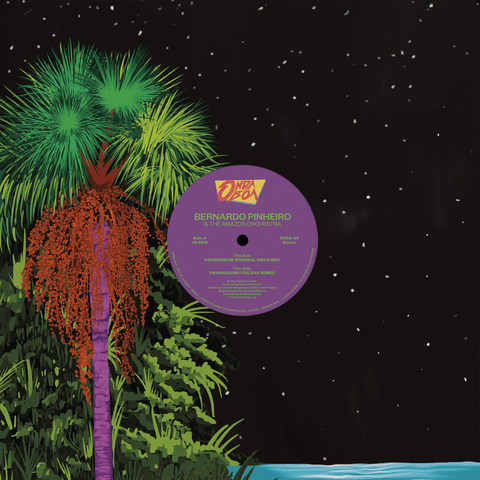 RELEASE
Bernardo Pinheiro & The Amazon Orchestra - Virabrequim
LABEL:
Onda Boa
After a string of sought-after releases on labels like Barefoot Beats, Cocada Music, Bongo Synth and Too Slow To Disco, Bernardo Pinheiro brings his seasoned production skills to Onda Boa.
A man at home working in a myriad of styles, the third release on the label sees Pinheiro assemble The Amazon Orchestra to create a brilliant cover of the Marcos Valle / Azymuth jazz dance classic, "Virabrequim". Diggers of Brazilian wax and jazz-funk aficionados will know the tune from the O Fabuloso Fittipaldi OST that first united Marcos Valle and Azymuth in 1973.
Pinheiro's updated disco version maintains the original track's swinging piano, propulsive bassline and soaring horn charts while pushing the material into the future, earning high praise from the man like Marcos Valle himself. Live bass, keys, guitar and brass bring an organic sound to Pinheiro's stylish production, creating a euphoric take that's ready to elevate any house, disco or jazz dance set.
Voilaaa's remix sees the French maestro pull back the reins a bit, stripping things down before reassembling the elements in a way that allows each section to shine in a supremely funky way. With the third release on the label, Onda Boa has cemented their sound, one which honors the iconic Brazilian originators while charting their own unique course to a cosmitropical future.
Add to cart