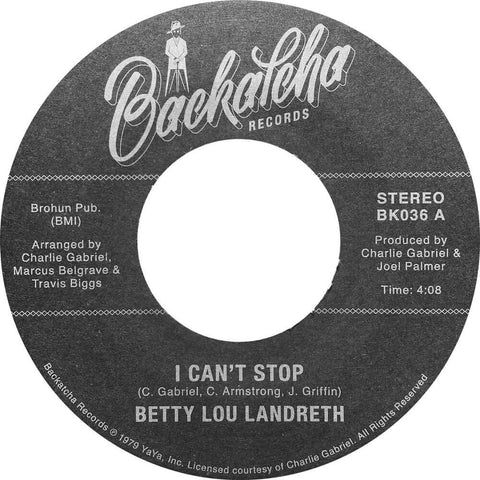 RELEASE
Betty Lou Landreth - I Can't Stop 7"
LABEL:
Backatcha Records
"Honestly, there were never any commercial expectations or aspirations for the album. We just got together to cook up a gumbo. Detroit, New Orleans, funk, jazz, torch, country and some great, great musicians to bring the flavors together." Joel Palmer, 2021.
Betty Lou Landreth's 'Betty Lou' album was recorded in Detroit in 1979. Produced and released by Detroit-born jazz historian Joel Palmer on his YaYa, Inc. label, the album features many veteran and esteemed Detroit and New Orleans Jazzmen. Alongside Joel, producer and arranger Charlie Gabriel wrote five original compositions for the album including 'I Can't Stop', recruiting some of Motor City's top fellow musicians for the session, including his longtime friend and housemate, trumpeter Marcus Belgrave, drummer J.C. Heard, Motown Funk Brothers' pianist Joe Hunter, trumpeters Herbie Wilson and John Wilson, keys player Emmanuel Riggins, bassist Hubie Crawford, Travis Biggs, the Body sisters and many more. Gabriel's father Martin 'Manny' Gabriel, a clarinetist and drummer, also penned a song and performed with Charlie's brother August.
Like the musicians that backed her, the late Betty Lou Landreth had already paid her singing dues long before she walked into Studio A at Superdisc.
"Earlier verses in The Ballad of Betty Lou, they've been happy and they've been sad. A country girl from Oklahoma, she sang throughout her teen years in her hometown of Artesia, New Mexico. She sang on a scholarship at Eastern New Mexico University. She sang in Iceland and Greenland with a USO tour of the Northeast command. She sang in Los Angeles, in Detroit, in New Orleans. Mostly, she sang jazz. Club gigs and studio backup work kept coming her way." Albuquerque Journal, 1987.
A story that Joel Palmer, expands on for the forthcoming official double-album reissue of 'Betty Lou', featuring the original studio recordings along with bonus material and alternative takes.
In response to Palmer's vison for the album, Sean P, who mixed the single for Backatcha notes, "That's exactly what they achieved. You can hear all of the above. The brass section takes care of the New Orleans, that's for sure. Those guys sound like they can play in their sleep."
Clarinetist, saxophonist, and flutist Charlie Gabriel is a fourth-generation jazz musician from New Orleans. He came to Detroit at the age of fourteen. Gabriel was so experienced that he got into the Lionel Hampton outfit at age sixteen playing alongside Charles Mingus on bass. Later, he played with the U.S. Army for two years. In 1956, he formed a band and travelled around the country leading the Charlie Gabriel Trio. He travelled and performed nationwide until accepting the job as band director for Joe Simon in 1969. In the early 70s, he was a member of Aretha Franklin's Orchestra. He continued to play throughout the states and abroad working with Nancy Wilson, JC Heard, Tony Bennett and up through recent years when he's been playing with the Preservation Hall Jazz Band.
"Raised in a classically trained musical family that emigrated from Santo Domingo in the 1850s, Charlie began playing clarinet professionally with the Eureka Jazz Band when he was eleven years old ... In a career spanning countless genres, Gabriel has performed with Tony Bennett, Frankie Avalon, Brenda Lee, Mary Wells, Eddie Willis, Joe Hunter, and many other early Motown artists. Gabriel sums up the influence of his fellow musicians: "I have many, many people inside of me that I have rubbed shoulders with, and I got something from each one of them. It's all wrapped up inside of me, and by me still playing today and still able to go around the universe, I give to them all these other things I have from those that I have came in contact with."
Vinyl, 7" Reissue
Add to cart