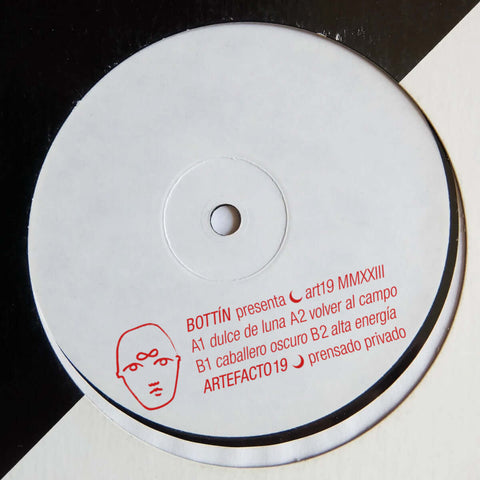 RELEASE
Bottin - Dulce De Luna / Volver Al Campo
LABEL:
Artifact
PRE-ORDER ITEM
Expected in stock between 23rd June - 7th July
PLEASE ORDER PRE-ORDER ITEMS SEPARATELY FROM IN STOCK ITEMS IF YOU WOULD LIKE TO AVOID DELAYS TO YOUR ORDER/S
Bottin brings us this juicy Artifact 4-tracker in super-limited-quantities. Dulce De Luna is an acid disco weapon with some sabor latino. Volver Al Campo is a psychedelic cosmic ritual chant (sounds like Adriano Celentano maxi-dosing mushrooms in the Italian countryside). El Caballero Oscuro serves as the main theme from John Carpenter's space-horror flick shot in the extraterrestrial jungle (only he didn't make that movie, yet) - Finally, we get a slab of low-hip high-energy madness for hardcore Italo heads (those who want the hypnotic synth machinery, not the demented vocals) - Get this quick before the usual discogs price bump.
Add to cart