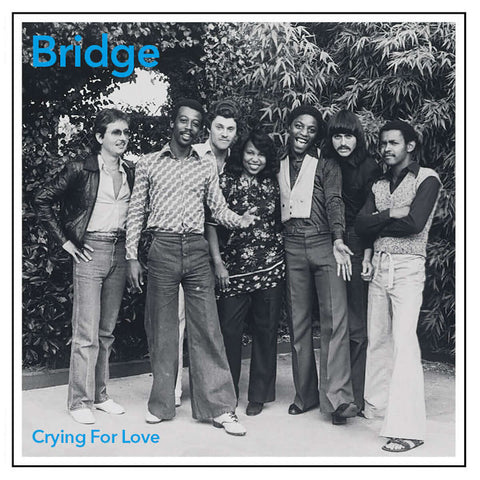 RELEASE
Bridge - Crying For Love
LABEL:
High Jazz Records
Media Condition: Mint
Sleeve Condition: Mint
Under exclusive license from Paul Tillman Smith and Jon Bendich
℗ & © 2020 HIGH JAZZ* Records - HJLP008
Bridge - Hailing from Oakland/Berkeley, California.. in 1981 they spent four weeks in Boulder, Colorado cutting an album for the Bang label that never saw the light of day.
This Double LP is a collection of the demos that helped the group land the Bang deal. Never released until 2000 on First Experience Records, it became an instant Modern Soul classic and highly sought after. 16 beautiful tracks featuring incredible vocal performances from Debravon Lewis & Derick Hughes. No fillers. One of the best and most beloved records in its genre. A must have!
Produced by Paul Tillman Smith & Jon Bendich for Drawbridge Productions.
"These selections reveal a sophisticated fusion of soul, jazz, rock, and latin elements that placed Bridge well ahead of its time. "
- Lee Hildebrand
"Derick was amazing, like a young Donny Hathaway, so spiritual, so pure!", "And Debra had a way of letting her vulnerability come through. When we were producing her in the studio, you felt everything that she was singing. There wasn't any faking, and the tone that she had, Debra would make us cry!"
- Jon Bendich
Add to cart