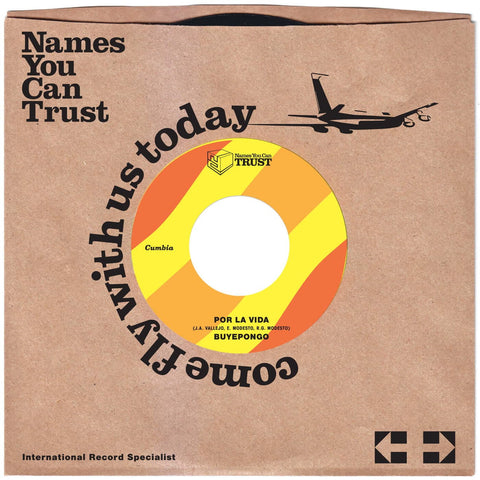 RELEASE
Buyepongo - Por La Vida
LABEL:
Names You Can Trust
Media Condition: Mint
Sleeve Condition: Mint
Since 2010, Buyepongo has led a steadily growing Los Angeles underground movement that combines the vast influence of traditional tropical sounds with the streetwise edges of the Latin American diaspora. Much like their name implies (translation: to cause a ruckus), their hybrid style is focused on the celebration, an infectious, energetic vibe that is universally and rhythmically connected. It'll get your feet moving, and much like many of the records from the golden age of cumbia, these two offerings demonstrate an updated and adapted reverence for the roots that is truly distinct to their own unique place and time.
For the group's latest single, that place, the sprawling Latinx scene east of Los Angeles, met head on with the east coast hot pot of Brooklyn. Recorded and produced in collaboration with Names You Can Trust during the band's serendipitous 2017 trip to NYC, this new release takes two of Buyepongo's most fan-favored and party-tested original songs, two that had yet to be recorded, and combines them with the NYCT forty-five ethos: a stripped-down, warm analog recording that perfectly captures Buye's live, bring-the-ruckus style in the room as it happened. "Por La Vida" romps over the A-side, a modern-day classic in the making whose lyrics (how beautiful is life, always full of surprisesâ¦) compliment a sunny, easy-going house party vibe, while "Miri" on the flip evolves from a loping, almost reggae groove into a transcendent journey through Caribbean feel-good sounds.
Add to cart