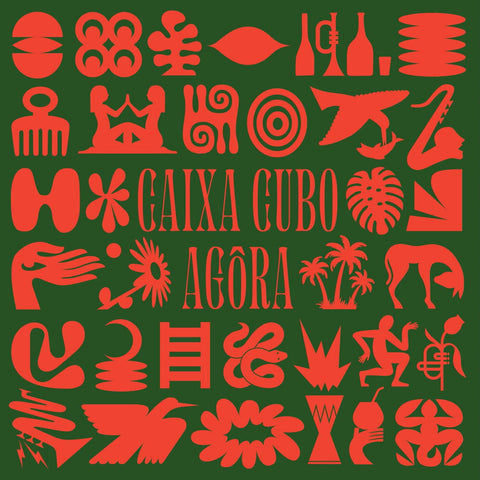 RELEASE
Caixa Cubo - Agora
LABEL:
Jazz & Milk
Radio & DJ Support by Gilles Peterson, Huey Morgan (BBC Radio 6 Music), Bandcamp Weekly, Patrick Forge (NTS), Global Roots (Rinse FM), DJ BarKino & DJ Kobayashi (Soho Radio) Kev Beadle (Totally Wired Radio), Ro Contreras (KCRW, US), Sarah Ward (Jazz FM), DJ Khaled (RAI, IT)
Global pointing Brazilian jazz trio releases their new album Agôra, that sparkles with electric funk and Herbie-esque eclecticism. It features a myriad of guest vocalists and musicians including Brazilians Xênia França and Zé Leônidas, Jembaa Groove's Ghanaian singer Eric Owusu and South African artists Bongani Givethanks & Mpho Nkuzo
Re-wiring the concept of 'fusion' for 2023, Agôra is Brazilian trio Caixa Cubo's resurgent new record with the title referring to 'now', based upon the intuitive and fluid nature of the trio's method, and this inspired recording. With shoots to black music culture, from Brazil to Brooklyn, Ghana and South Africa, Agôra is the group's ninth album yet is their first where they've invited guests, mainly singers, onto each track and follows their last, Angela from 2020, released on Heavenly Records, which won a BBC 6 Music Album of the Year (Huey Morgan's selection) granting them much deserved international recognition.
The core musical elements of Caixa Cubo are Henrique Gomide (keys), João Fideles (drums) and Noa Stroeter (bass), all from São Paulo, Brazil and where they met as teenagers and would continue their friendship and musical bond at the Royal Conservatory in The Hague, Netherlands. Now all in their mid thirties, João and Noa live back in the city where it all started but Henrique has settled in Cologne, Germany where the recording of Agôra took place, over the course of 3 days, at the home cum studio of Chris 'Dusty' Doepke, their friend and owner of the label they signed to, Jazz & Milk.
In line with all their creations where flow and energy provide the magic, allowing what the moment provides, the album shines not only for its virtuosity but for its minimalism, the depth of space, and for the first time, the ability to figure in and outside of the jazz fold, as the trio decided, for the first time, to bring in singers and add a new aesthetic to their sound.
"Agôra is a wake-up call to reality, a reminder that the infinite possibilities of technological progress should not disconnect us from the earth, from eye-to-eye relationships, and from moments lived in person" the band are keen to point out. "And that we must not be consumed by greed, for all we truly possess.... is the NOW."
Turning hope and metaphor into music, the debut single Sábado, an electrified future- jazz-fizz reflects perfectly the spontaneity that permeated the entire recording of the album. "When we got to the studio, we had no idea what we were going to record. We started playing a groove, kind of inspired by Gilberto Gil's 80s albums, and our drummer João started singing this funny song 'Sábado Barrigudão' (Big Belly Saturday) alongside the bass groove and that was that". Inspired by their city of birth, São Paulo, it features long time collaborator and vocalist Zé Leônidas, with cuicas, tamborim, agogo and shakers providing the most obvious Brazilian affect from the album.
Dreams is the band's first foray into R'n'B melding the group's simple and sporadic instrumentation of drums, keys and bass into a Jill Scott inspired song that could have been born in Brooklyn yet sung by Brazilian singer and Grammy nominated Xênia França and Zé Leônidas in both English and Portuguese. Xênia recently performed online for hip-to-it website Colors and it's her latest collaboration with Caixa Cubo, having first met in 2009 for a series of live performances.
South African artists Bongani Givethanks & Mpho Nkuzo come to the record with a wholly different approach on Ndiyakhangela, providing spoken word and vocal refrains on top of an Afro-Brazilian percussion jam with a delivery and verse in Xhosa, Zula and Ndebele. Asase is the album opener and features vocals of Eric Owusu who is part of highlife pioneer Pat Thomas's live band and most recently, co-leader of Jembaa Groove, an Afro-soul band from Berlin. It's a synth wig out with djembe grooves and offers a brand new take on Afro-soul-jazz.
Other contributions come from Cologne based jazz singer Rebekka Ziegler (Oblique Sunshine), São Paulo based guitarist Eduardo Camargo (Caio & Eric) and trumpet player Matthias Schriefl on Kismeti, a gorgeous and rolling number that ebbs and flows, exemplifying the group's effortless ability to craft a sound energised by a belief in one-self and the idea of having faith without the need to look at each other for verification.
As drummer and percussionist João Fideles perfectly surmised upon arriving for the recording session, "What drums do you have? Whatever you have, I'll use it". Agôra is testament to nearly 20 years of camaraderie, friendship and most importantly, trust.
Add to cart