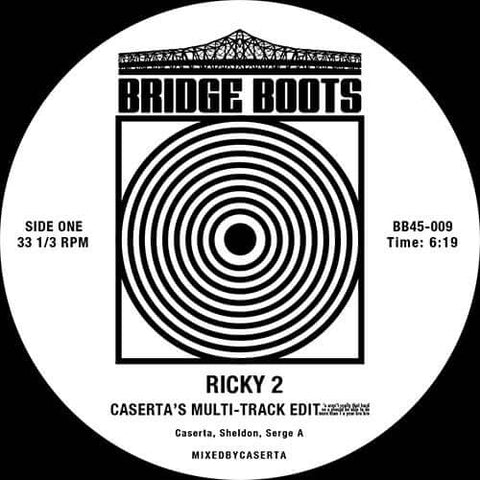 RELEASE
Caserta - Ricky 2
LABEL:
Bridge Boots
Media Condition: Mint
Sleeve Condition: Mint
With a little bit of research you'll realize that Ricky 1 actually didn't come out on Bridge Boots but on thatmanmonkz imprint Shadeleaf back in 2015 and received loved from Matthew Dear and Sam Divine to name a few.

A little over 5 years later and Caserta is back with the sequel! Contrary to popular belief Caserta doesn't usually 'edit' (with the exception of BB45003 release Diana). But he decided to bust out the ole' Razor-N-Tape for the 40 year anniversary of this dancefloor classic! While anyone with party rock capabilities can improve on an already classic composition. 'Supa Engineer Caserta' made sure to take his time to take make sure the sonics went for 1981 to 2081.

The flip side delivers more of the tried and true Bridge Boots formula people have come to love with a hard hitting deep house joint sure to light up the dance floor once we start to put Roni-19 behind us!

Lastly...who the hell is Sheldon??
Add to cart