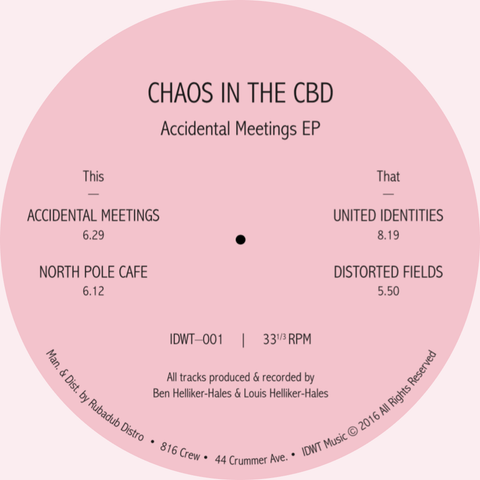 RELEASE
Chaos In the CBD - Accident Meetings
LABEL:
In Dust We Trust
Chaos In The CBD's Ben & Louis Helliker-Hales team up with long-time friend and collaborator Jon Sable to present their new imprint 'In Dust We Trust.'

In Dust We Trust is an ode to a collection of friends who share a certain understanding, who live by a love and respect for the people around them. That friend who saves that last puff for you, that friend who will share their drink with you when you can't afford your own, that friend who will learn how to drive a car on the spot because you're too drunk to make it home.

Kicking things off with a release from Chaos In The CBD, 'Accidental Meetings' is a record that celebrates this way of living. The four cuts effortlessly move you through a journey of delicate textures and atmospheres. It begins with the late night basement sounds of the title track, then sends you through the spacious and meditative 'North Pole Cafe.' The wild rhythms of 'United Identities' hypnotise you, until you find yourself spat out by the energetic grooves of 'Distorted Fields.'

Play it in the club, play it in the hotbox, or play it for your mum, this record is filled with soulful, rhythmically complex, melancholic music that is unmistakably dusty.
Add to cart