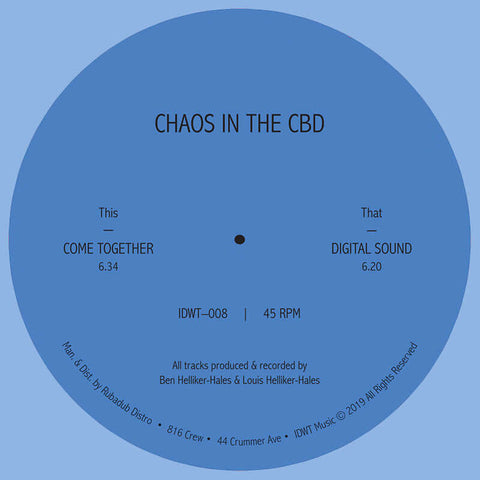 RELEASE
Chaos In The CBD - Come Together
LABEL:
In Dust We Trust
Peckham-based DJ and producer duo Chaos In The CBD have announced their new 12" 'Come Together / Digital Sound' on their In Dust We Trust imprint, out October 28th 2019. 

Consisting of New Zealand brothers Ben and Louis Helliker-Hales, the duo's new release features two excellently crafted club cuts that display their flair for creating deep house soundscapes, from the jacking, percussive heavy hitter 'Come Together' which features searing synths and a fierce bassline, to the expressive rhythmic stylings of 'Digital Sound', which features driving percussion and atmospheric synths. 

Since moving to Peckham in 2012, the duo quickly became an integral part of the South London electronic community with their standout releases, including records on Rhythm Section, Mule Musiq and their own In Dust We Trust imprint, which they co-founded with fellow kiwi producer Jon Sable. This combined with the infectious energy of their magnetic and accomplished DJ sets have propelled them to play at some of the best clubs worldwide.

Chaos In The CBD say: "The purpose of IDWT has always been to serve as an outlet to release our own music without being at the mercy of external labels, whilst also retaining full control of the project both musically and aesthetically. Our goal has always been to release timeless music that we will be proud of for decades to come."

With their new release, Chaos In The CBD continue their rise as refreshing producers in the electronic scene, and look set to close out 2019 on a high with a jam-packed worldwide tour ahead, including their In Dust We Trust label tour, and stops at Tokyo, Melbourne, Bali and London. 
Add to cart