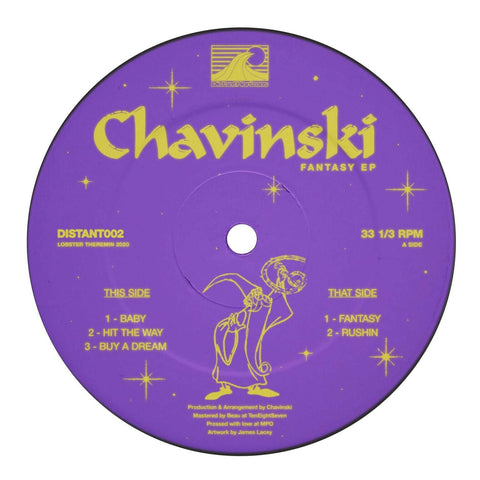 RELEASE
Chavinski - Fantasy EP
LABEL:
Distant Horizons
Coco Bryce summons his Chavinsky alias for a bass-heavy mystical journey through garage, house and 2-step with a sublime 5 track EP for Distant Horizons.
Ocean-depth subs underpin this EP as a heavy dose of UKG is thread through the A-side with the club-ready tones of 'Baby' and 'Hit The Way' loading up the 2-step influence for some seriously heavy wobblers. The side is finished out with the proto digi-dub vibes of 'Buy A Dream'. A short yet glorious centre pivot for the EP.
On the flip we're into some heavy groovin' deep house territory. 'Fantasy' is loaded up with classic timbres and slightly tranquilised vocals plus a buzzing LFO-tweaked bassline. A modern classic fusion of US house music and low-end UK sounds. 'Rushin' steps us to the end with a natural miniature breakbeat riding across a once-again nostalgic rhythm and bass interplay with vocal snips and gentle, melodic organ stabs weaving in and out of focus.
Vinyl, 12", EP
Add to cart