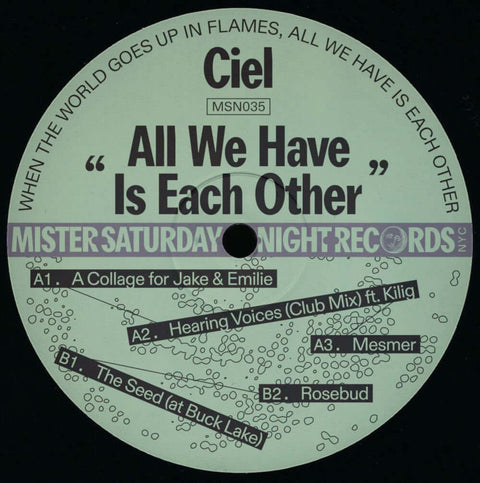 RELEASE
Ciel - All we have is each other
LABEL:
Mister Saturday Night
PRE-ORDER ITEM
SHIPPING FRIDAY 3RD MARCH

PLEASE ORDER PRE-ORDER ITEMS SEPARATELY FROM IN STOCK ITEMS IF YOU WOULD LIKE TO AVOID DELAYS TO YOUR ORDER/S
Throughout her much-lauded career as a DJ and producer, Ciel has worked hard to build community through events and DJ workshops in her home city of Toronto and on a larger scale with podcasts and projects meant to elevate women artists. The title of her latest EP, "All We Have Is Each Other," reflects her history of mutual support, and in these times when so many of our connections seem broken by the pandemic, it offers a reminder that music still has the power to unite us.
Ciel has never been an artist who lets genres define or constrain her, so it seems only fitting that this release lands on Mister Saturday Night Records, a New York City label with a similar ethos. It's in this refusal to restrict her sound to narrow definitions that something magical happens.
This 5-track EP spanning dance floor fillers and home listening pieces builds on a frame of tough footwork-paced kick drums, the skip and swing of 2-step garage, broken house, and slow, meditative beats. Woven throughout are hopeful melodies, dappled with sunlight tones and layered with organic percussion. The connective tissue is a deep feeling of joy and hopefulness in the power of music and collective humanity.
When the world goes up in flames, all we have is each other. Music connects us with like-minded communities that both shelter and empower us. With this emotive collection of diverse songs, Ciel reaches out a hand and invites us to be a part of something beautiful and authentic. 
Add to cart