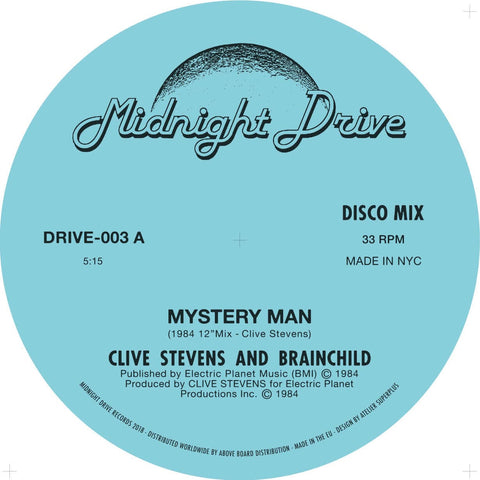 RELEASE
Clive Stevens - Mystery Man
LABEL:
Midnight Drive
Techno, Disco, Italo, Electronics, House, Library, Cosmic and Ambient frequencies - These are the bedrocks of the Midnight Drive ethos and sound. A label shining a light on overlooked or unheralded creations and respectfully reissuing them for the contemporary audience. A label that respects and understands the connection between these disparate and sometimes forgotten forms of musical expression and celebrates them.
The third release on Midnight Drive takes us back to the heady days of 1984, New York City. We find Clive Stevens, a UK born saxophonist, producer, writer and poet whose career has seen him collaborate with artists like Manfred Mann, Gilberto Gil and Billy Cobham has assembled a truly staggering cast of international musicians known as 'Brainchild' to record an LP entitled 'Semjase' for Brazilian label Vôo Livre. The LP featured incredible session musicians whose CV's include work with some of the biggest names in popular music including Chic, Kate Bush, Miles Davis, David Bowie, Eric Clapton, Tom Petty and more (the list is endless). One track from this fairly obscure LP - 'Mystery Man' - somehow managed to find it's way into the hands of one of modern dance music's most intrepid DJ's and selectors, the legendary Daniele Baldelli. Based in Rimini, on Italy's Adriatic coast, Baldelli was famed for his Disco sets at beach-side, ultra-modern club 'Baia Degli Angele' where he was resident for a couple of years. Having served his time at the 'Italian Studio 54' throughout the late 1970's he built quite the reputation for being an adventurous selector, however, it was the second 1980's phase of his DJ career where things became even more open and interesting. Baldelli found himself helming a new wave of musical programming, where BPM, genre constraints and purist attitudes were ignored for wanton experimentation with records, a new feeling and style emerged from this called 'Cosmic', named after the club where he was now resident. This is where 'Mystery Man' comes in, now looked back on as a 'Cosmic classic' it was a special track that Baldelli favoured and can be heard in his self-distributed mixtapes from the time, it's a truly unique record melding electro-style programming with live percussion, synthesizers and vocals into a blistering slow motion Disco jam that stays with you for a long time afterwards and is the perfect example of the 'Cosmic sound'.
Here at midnight Drive we are honoured to be able to reissue this amazing track, but imagine our surprise when Clive Stevens emailed to say that he had the original 1984 session parts and that a remix could be an exciting proposition! We decided there could be only one choice for the remix, we needed people who understood the roots of the record, people who would respectfully reimagine the track while adding their own flavour, enter - Gerry Rooney and Joel Martin aka Velvet Season & The Hearts Of Gold. We gave them the '84 session parts with Clive's blessing and they turned in their 'Ever evolving ever transforming' remix. Gerry and Joel's pedigree is impressive, Gerry helmed the infamous Black Cock re-edit's label with DJ Harvey way back in the mists of time and is a respected DJ and selector across the globe. Joel is one half of the cult Quiet Village project and his Disco mixes as DJ Zeus and reputation as a world-class collector and DJ is unparalleled. Arguably the best men for the job! Velvet Seasons have carved out a deservedly celebrated reputation as remixers and editors of note over the last 5 years or so and this, their wondrous, sprawling, dubbed out mix of 'Mystery Man' is definitely a high-point. Midnight Drive is hugely proud to be able to offer this classic record with a brand new remix to you - our most trusted and valued listener.
Add to cart