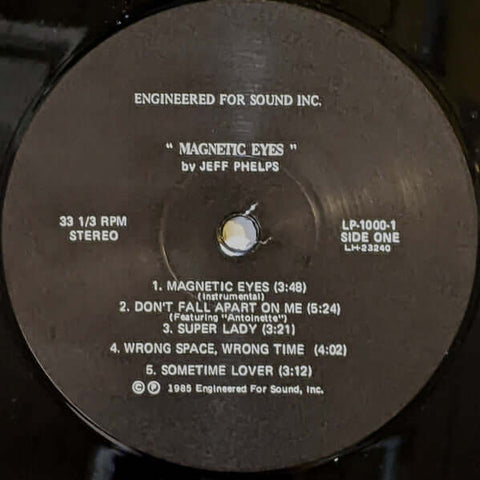 RELEASE
Jeff Phelps - Magnetic Eyes
LABEL:
Engineered For Sound
Media Condition: Very Good +
Sleeve Condition: Near Mint
Much is made of Detroit techno progenitors proximity to the auto plants. Similarly, overlooked electronic pioneer Jeff Phelps was raised just blocks from a Western Pennsylvania steel mill—close enough to smell the sulphur and hear the roaring blast furnace. When Tascam released their ground breaking Portastudio in 1984—allowing multi tracking on the far more financially inclusive cassette tape—Phelps purchased one immediately, and quickly added a Roland SH-101 monophonic synthesizer, Fender Rhodes suitcase piano, Roland drum machine, and a basic Radio Shack stereo mic. Those basic tools were employed on his first commercial productions for his own Engineered For Sound label: 1985's Magnetic Eyes LP and Antoinette's "Now You're Gone" 45. These DIY sketches generated few profits, and Phelps kept his day job in the energy business.
Jeff Phelps eventually found his way back into performance and recording, starting with The Next Level Band near the end of the decade. Houston gourmands might have caught them at the opening of Texas's first Cheesecake Factory. Magnetic Eyes has already had a few lives, between TomLab's 2010 replica pressing and inclusion on Dante Carfagna's genre-defying Personal Space compilation. This 2021 edition features the heretofore un-re-released second mix, completed after discovering flaws in the initial 1985 pressing. Enjoy this technically perfect, artist-approved version of a visionary techno-adjacent masterwork.
Add to cart