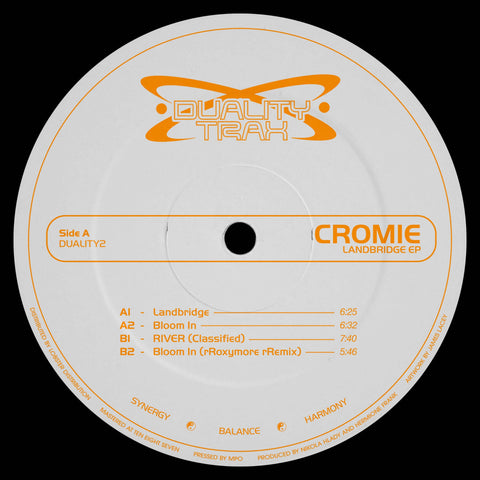 RELEASE
Cromie - Landbridge [Warehouse Find]
LABEL:
Duality Trax
WAREHOUSE FIND
The long awaited follow-up to a killer four-tracker from Dublin native Fio Fa and Naïve label head Violet, Holly Lester's Duality Trax readies it's subsequent release; this time courtesy of Zagreb born, LA based producer Cromie and a remix from one of electronic music's most exciting artists – rRoxymore.
 
Cromie explores a pool of moods and aesthetics throughout the labels latest outing; twisting and bending the standard house template into a string of exciting new shapes and sounds. Title track Landbridge is a brooding cut of peak-time energy; original, bold and brimming with colour. Bloom In shines a stronger spotlight on Cromie's eye for oddball rhythms – with a series of left-field leaning synths, hypnotising grooves and deep, rumbling bass. River then channels us through a tranquil, break-scattered dreamscape as the current gently sails us home. 
 
rRoxymore incorporates the dynamics of Cromie's original - Bloom In, while allowing her own unique perspective to shine. The Berlin based producers refreshing take on the fringes between house and techno are as perceptible as ever, floating effortlessly between genres, exploring new possibilities and sounds. Organic drums act as the centrepiece, loaded with detail, balanced by the artist's ineffable bleeps and bass. Cromie's once recognisable stabs breathe new life during the tracks second half - abruptly moving throughout its interior, leaving listeners with a lasting impression long after its conclusion.
Add to cart