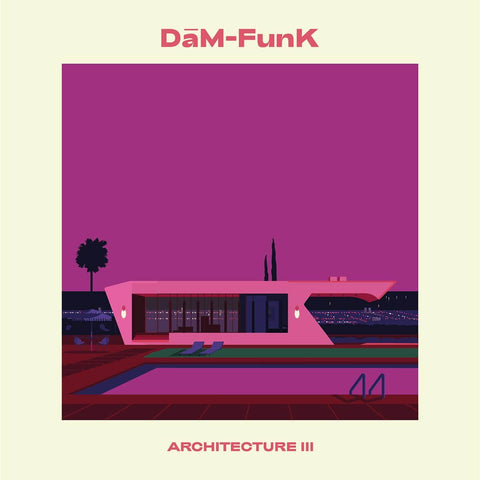 RELEASE
DāM-FunK - Architecture III
LABEL:
SAFT
DaM-FunK brings his Architecture Trilogy on Saft to a close with a fantastic final EP. The series started in 2016, included the second volume in 2018, and now wraps up with a double 12" packed with heat from the legendary Californian beatmaker.
DaM-FunK has been in a class of one since first emerging in 2008. He's a definitive Stones Throw Records artist, musician and vocalist, boss of GlydeZone Recordings, a sometime Snoop Dogg collaborator and prolific producer of tens of EPs, 14 albums and a timeless entry to the DJ-kicks series. What he doesn't know about boogie, g-funk and synth-pop isn't worth knowing, and this final Architecture EP is another doozy.
The gorgeous 'Grow' immediately sinks you into a hazy house vibe. Lo-fi beats and farsighted chords melt your heart and lock you in a gentle groove. 'Night Kruise' lays down a classic DaM-FunK bassline then builds it up with melancholic keys and lowslung funk that is simply irresistible, then 'Think' ups the pace with a punchy but still deep house groove, heat-damaged chords and a clipped bass phrase that makes you move.
The seductive sounds continue through the balmy 'Feel' in which you can almost see palm trees and burnt orange Cali skies as the low riding groove skates along in lovably low key fashion. 'Sun Gospel' is a perfectly rough edge MPC workout with busy keys, scruffy kicks and bright boogie all jostling for your attention, and 'Shine' closes with a prickly boom-bap, knotted bassline and epic prog-guitar riffs that ring out into a latenight sky.
Architecture III is another heart aching, humid and feel-good house EP from the one and only DaM-FunK.
Add to cart