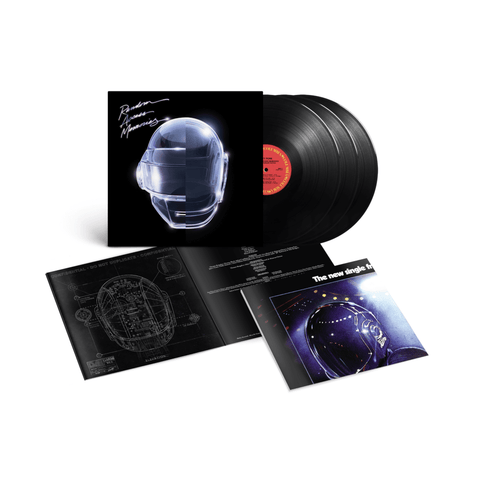 RELEASE
Daft Punk - Random Access Memories (10th Anniversary)
LABEL:
Sony
PRE-ORDER ITEM
Expected in stock between 12th - 26th May
PLEASE ORDER PRE-ORDER ITEMS SEPARATELY FROM IN STOCK ITEMS IF YOU WOULD LIKE TO AVOID DELAYS TO YOUR ORDER/S
2023 marks the 10th anniversary of Daft Punk multi Grammy winning hit record Random Access Memories including Get Lucky, Instant Crush, Lose Yourself To Dance and featuring Pharell Willams, Nile Rodgers, Julien Casablancas, Paul Williams, Panda Bear and Todd Edwards. To celebrate this milestone a special expanded edition will be released including 35 minutes of unreleased music (Demo and Studio Outtakes). The triple vinyl also includes a special Lose Yourself To Dance poster.
Side 1 - 1. Give Life Back To Music 2. The Game Of Love 3. Giorgio By Moroder
Side 2 - 1. Within 2. Instant Crush 3. Lose Yourself To Dance
Side 3 - 1. Touch 2. Get Lucky 3. Beyond
Side 4 - 1. Motherboard 2. Fragments Of Time 3. Doin' It Right 4. Contact
Side 5 - 1. Horizon Ouverture 2. Horizon (Japan CD) 3. GLBTM (Studio Outtakes) 4. Infinity Repeating (2013 Demo) 5. GL (Early Take)
Side 6 - 1. Prime (2012 Unfinished) 2. LYTD (Vocoder Tests) 3. The Writing Of Fragments Of Time 4. Touch (2021 Epilogue)
Add to cart