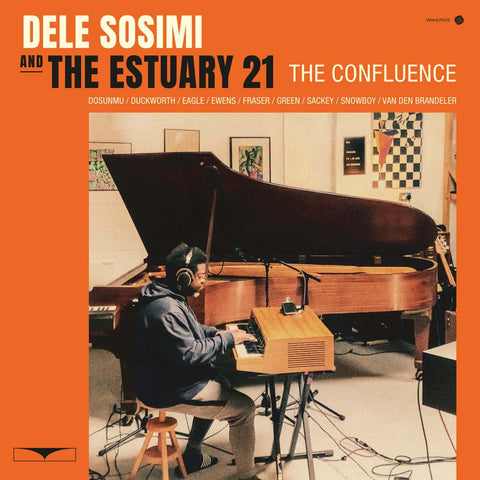 RELEASE
Dele Sosimi & The Estuary 21 - The Confluence
LABEL:
Wah Wah 45s
Afrobeat ambassador Dele Sosimi's new album 'The Confluence' has been recorded and produced with Essex musician Sam Duckworth, aka Get Cape, Wear Cape, Fly; and a team of specially assembled musicians under the banner of "The Estuary 21" - with the name of the nearby river and the year, being a clue to future Confluence projects. Recorded over a multitude of sessions in 2021, this new set of songs flow with the sounds of Afrobeat, jazz, and worldly pop, and feelings of freedom, strength, and collaborative dynamism as a balm for life changing events. 
Dele and Sam were introduced at Felabration 2012, the annual commemoration of the music of Fela Kuti, and promised to work together in the near future. With many live collaborations, at Afrobeat Vibration, Kentish Town Forum and lots of hanging out and mutual love, nearly ten years passed before the two musicians connected in Sam's hometown of Southend-On-Sea in a post-lockdown creative boom, recording the album over a burst of week-long sessions in 2021. The Estuary 21 band is completed by Callum Green (The Sleeping Souls, GCWCF), Philip Van Den Brandeler (Pocket Dragon, GCWCF), Pete Fraser (The Pogues, Field Music), Afla Sackey (Afla Sackey & Afrik Bawantu, Ibibio Sound Machine), Aby Dosunmu (Dele Sosimi), Sam Ewens (Myles Sanko) with special guest appearances from Sam Eagle and Essex percussion legend, Snowboy. 
Born in Hackney, East London, but soon to return to his parents' native Nigeria at the age of four, Dele Sosimi was schooled and raised in Fela Anikulapo Kuti's commune (which he now refers to as his university of life). After Fela's passing in 1997, Dele went on to focus on developing his solo career and, honing his creative talents, and with much patience on his part, carved out his own Afrobeat crown. His last album, 'You No Fit Touch Am' (2015), was a critical success with Songlines writing "Afrobeat will never die so long as Dele's around", Clash declaring it "blistering Afro-funk from a true legend", The Quietus calling it "so fresh, while staying true to the template", and David Hutcheon's four star Mojo review said it was "a deeper, moodier collection than other Shrine veterans have released lately".
A veteran at 36 years old, Sam Duckworth has been releasing music as Get Cape. Wear Cape. Fly for half of his life. A catalogue that includes four top 40 singles, two top 40 albums (including the gold certified 'Chronicles of A Bohemian Teenager' that recently celebrated its 15th anniversary), a German club number 1 single and collaborations with artists ranging from Shy FX, Baaba Maal, Lily Allen and Jehst. Recently, Duckworth produced Benjamin Frances Leftwich's album 'To Carry A Whale' and has been working on the forthcoming album by Kate Nash.
Album 'Dele Sosimi & The Estuary 21' is set for release on 7th April 2023 on LP and digital. The band play live at London's Jazz Cafe on the same date with tickets available now.
Add to cart