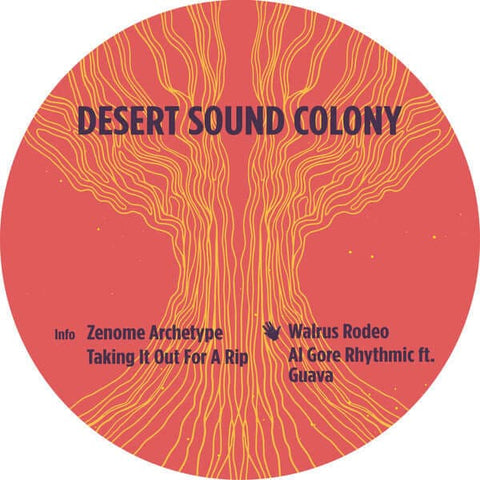 RELEASE
Desert Sound Colony - 'Zenome Archetype' Vinyl
LABEL:
Touch From A Distance
WAREHOUSE FIND
After providing Touch From A Distance's inaugural release not even one year ago, the mighty Desert Sound Colony is returning to Nick Höppner's label for another round on the bouncy bounce, his bubble gun at the ready! It's no exaggeration to say Desert Sound Colony smashed it on all fronts in the past year: He put himself firmly on the map by pushing his own label Holding Hands with a fresh take on beloved tropes of UK club music. His number of gigs also increased dramatically and he popped his Panorama Bar cherry earlier this year at the first TFAD label night, where he unleashed a joyous assault of beats and bass whipping the crowd into a frenzy.
His new EP for Touch From A Distance is an algamation of all the good stuff we've come to expect from the London based DJ and producer: Opener "Zenome Archetype" is a retrofuturistic joyride across mountainous bass and funked up syncopation. "Taking It Out For A Rip" then couples a thumping 4/4-UKG-Beat with a cheeky vocal sample, while "Walrus Rodeo" slows down the tempo and cranks up the folly for a slice of weird dancefloor fun Desert Sound Colony does so well. "Al Gore Rhythmic", a collaboration with Guava, closes the EP channeling classic 2-Step and golden era HipHop vibes.


Add to cart