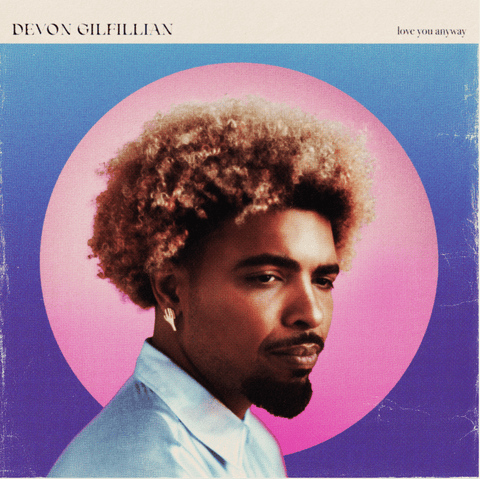 RELEASE
Devon Gilfillian - Love You Anyway
LABEL:
Fantasy
"One of the most exciting young artists in Nashville's burgeoning soul scene." - Rolling Stone
Potent, seductive, and raw, Love You Anyway, the new album from singer, songwriter, multi-instrumentalist Devon Gilfillian is an intoxicating, genre-blasting game changer. A musical polymath with a deep knowledge and love of vintage soul, R&B, rock and hip-hop, the Philly-born, Nashville-based artist's second full-length LP (and first for Fantasy) re-imagines modern soul music by redefining its possibilities. With an incisive eye and unassuming swagger, Love You Anyway, ignites the mind, and makes the body move.
Produced by Jeremy Lutito (Joy Oladokun, NEEDTOBREATHE) and recorded in Nashville, Love You Anyway, confronts as well as comforts. Chronicling Gilfillian's journey as a Black artist living in the tumult of 21st century America, the album's 10 original tracks, (all co-written by Gilfillian) are as much about fighting for what you believe in, equity and representation, as it is about love: finding it, making it, and channeling it into every facet of our lives.
Summoning an array of musical touchstones amid a rush of unexpected ear-catching twists and turns, Love You Anyway is as listenable as it is thought-provoking. The standouts are plentiful. The elegant, "All I Really Wanna Do," is the LP's alluring Temps-infused invitation. In quick succession, soulful disruptors, "The Recipe," and "Right Kind of Crazy," wrap around "Brown Sugar Queen," a Prince meets Anderson Paak super-sized jam (featuring rising Swedish pop star Janice.) And while Bill Withers' slinky gift for melody is evoked on "Better Broken," don't be fooled, it's Gilfillian's blazing talent and effortless charisma that makes Love You Anyway such a memorable ride. Elsewhere, both "Let The Water Flow," a spiritual centering on the political earthquake occurring right now in Georgia, and "Righteous," an unblinking look at racial injustice in America (featuring Nathaniel Rateliff!) are rendered with the grace and self-assurance of an artist in full directional command. Finally, on the impossibly irresistible open-hearted end-title track, "Love You Anyway," Gilfillian tenderly captures the raw power of acceptance.
Love You Anyway follows Gilfillian's debut album, 2020's highly regarded, Black Hole Rainbow, which received glowing coverage from NPR, the New York Times, PASTE, The Tennessean, and Garden & Gun among many others. The album was nominated for "Best Engineered Album" in the 2020 Grammy Awards while also generating three Top 10 AAA radio hits and numerous syncs across Apple TV+, HBO, CBS, Fox Sports, NASCAR, The NFL and on shows such as Grey's Anatomy, The Outsider, Lucifer, and The Equalizer among others. Brand associations include Disney, Wild Turkey, Gibson, Fender, Levi, Southwest Airlines, Bose, and more. Later in 2020, Gilfillian re-recorded and released Marvin Gaye's iconic album, "What's Going On, " which raised funds for low-income communities of color, and provided resources and education around the democratic process.
Growing up in Philadelphia, Gilfillian discovered that the towering icons of his musician father's era—Ray Charles, Stevie Wonder, Otis Redding, The Temptations—were just as formative and exciting as discovering the new sounds of his own generation: Wu-Tang Clan, Kanye West, Notorious B.I.G., and Jay-Z, who all inspired him in different ways.
With Love You Anyway, Devon Gilfillian propels the music forward and takes the next step, his rightful place among the stars.
Tracklist
1. All I Really Wanna Do 2. The Recipe 3. Brown Sugar Queen (feat. Janice) 4. Right Kind Of Crazy 5. Let The Water Flow 6. Imma Let My Body Move 7. Better Broken 8. Follow The Leader 9. Righteous (feat. Nathaniel Rateliff) 10. Piano (Interlude) 11. Love You Anyway
Add to cart