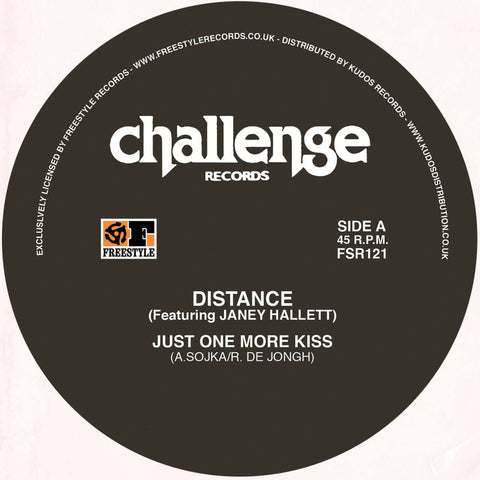 RELEASE
Distance - Just One More Kiss
LABEL:
Freestyle Records
Following on from the compilation of Contact-U's foundational UK dance music, 'Dancing Inner Space, 1982-84', Freestyle return to the Challenge Records vaults to reissue another killer Rick de Jongh & Andy Sojka production in the form of Distance's Just One More Kiss.
----------
"We usually recorded at Vineyard studio which was situated in a Victorian warehouse site behind Borough underground station (later owned by the Stock, Aitken Waterman production team)", recalls Rick de Jongh, "but for a reason I can't remember we recorded this record at Phil Fearon's home studio in Kensal Rise - he probably gave us a good deal!". Fearon had been a member of the band Kandidate and was at the time the lead singer and songwriter in Galaxy and would later go on to helm the legendary Production House label in the late 80s and into the early 90s. Rick recalls the studio, a converted back bedroom, being as well equipped as any pro studio though not without it's quirks - "the odd electrical glitch would occur, especially when somebody put the kettle on, which would play havoc with sync codes etc. and we would often have to start again!"

Most of the track had been laid down by Sojka & de Jongh before approaching vocalist Janey Hallett. "At the time Janey was a vocalist with Mari Wilson & The Wilsations, who had a big hit a year or so earlier with 'Just What I Always Wanted' and was introduced to us by our regular keyboard player Garry Hughes, who also brought along Julia Fordham - then a fellow singer in the Wilsations - who provided backing vocals on the track."
Challenge Records would again later utilize the backing vocals of both Janey and Julia on some of their forays into the world of Hi-NRG records. In places there is a certain Hi-NRG tinge to this track, and at times Janey's vocal (in combination with the stripped back and heavy electro backing track) bring to mind the US-based latin freestyle sound of the late 1980s. All in all, it is another piece of foundational & criminally undersung UK dance music, which surely has a place in a wide-range of DJ's record bags!
Add to cart