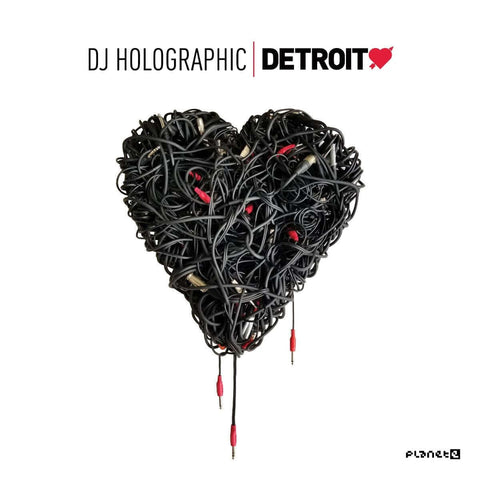 RELEASE
DJ Holographic - Detroit Love Vol. 5 [Gatefold 2xLP]
LABEL:
Planet E
Carl Craig has announced Detroit native and hotlytipped selector DJ Holographic is next in-line for his prestigious 'Detroit Love' mix compilation series dropping on Planet E Communications. Following in the footsteps of predecessors like Stacey Pullen and Wajeed, being invited to mix vol.05 of the series is testament to DJ Holographic being one of Detroit's most anticipated breakthrough DJ's.
Born and raised in the Motor City's deep musical legacy, Ariel Corley aka DJ Holographic is an ambassador for Detroit through and through. Having cut her teeth as a DJ in the local scene over the past decade DJ Holographic is admired for her versatility, eclecticism, and impeccable taste. Ariel has firmly established herself as a staple of Detroit's modern underground scene, a core member of the city's LGBQT+ community and a devoted activist for local humanitarian causes - love for Detroit underpins every element of Ariel Corley's life.
Released 16th April via Planet E and K7!, Detroit Love Vol. 05 is packed to the brim with exclusive tracks handpicked by DJ Holographic who takes the listener through a vibrant and flawlessly-mixed showcase of breakthrough artists, ones to watch, and longestablished artists Ariel has a personal affiliation to. The mix was curated by DJ Holographic at the artist creative hub below Submerge Records in Detroit - home to labels such as Underground Resistance, Transmat, Red Planet, and Distorted Soul.
DJ Holographic's 'Detroit Love' is a plunge pool of funkadelic dancefloor exploration gliding seamlessly through juiced-up vocal tracks and percussive club rattlers. Corley draws and releases energy with expert precision throughout, blending minimalistic acidtechno elements into astral electro-infused rhythm which provides luscious escapism and eyes-closed introspection.
2 x 12" Vinyl, Gatefold LP, Compilation + CD Insert
Add to cart