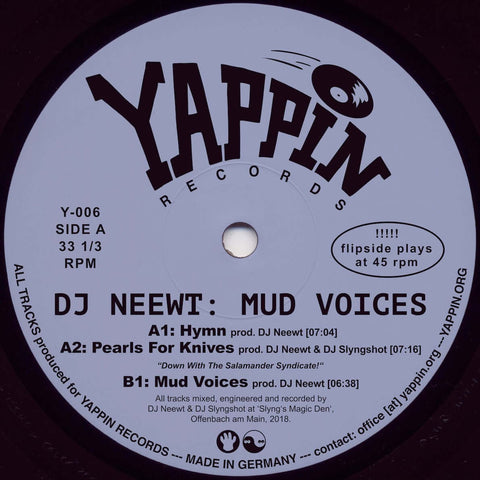 RELEASE
DJ Neewt - 'Mud Voices' Vinyl
LABEL:
Yappin
WAREHOUSE FIND
Referring to Karel Capek's satiric 1936 novel ,,War with the Newts", the sixth record of the YAPPIN chronicles is DJ Neewt's second attempt to transfer Capek's dystopian imagery of suppression and monetarisation onto a sonic level.
This EP is a pass to deep and psychedelic spheres, a clash of despair and hope, hegemony and appetite for freedom and independency, an alternation of tension and relief, of simplicity and complexity.
Distant, reverberating voices wallowing in broad synthesizer soundscapes, incisive bass lines twining percussive patterns - everything is cyclic but yet somehow progressing.
The three tracks on ,,Mud Voices" are not just functional tools to inject some trance and breaks into your DJ set, they are the creative outcome of DJ Neewt interrogating Karel Capek's view on totalitarianism, postcolonialism and social Darwinism - an attempt to put a sonic complexion to the marvelous science fiction story the Czech author had told in dismal and desperate times. - B. Kaemmer
Add to cart