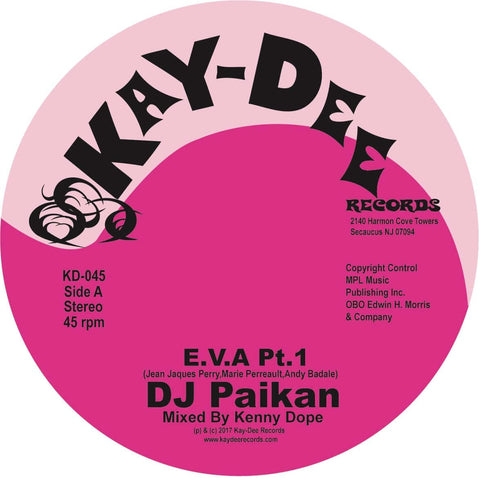 RELEASE
DJ Paikan - E.V.A.
LABEL:
Kay-Dee Records
PRE-ORDER ITEM
Expected in stock between 3rd - 14th April
PLEASE ORDER PRE-ORDER ITEMS SEPARATELY FROM IN STOCK ITEMS IF YOU WOULD LIKE TO AVOID DELAYS TO YOUR ORDER/S
As a solo artist and as a member of the duo Perrey and Kingsley, Jean-Jacques Perrey
was one of the leading innovators of early
electronic music, and a trailblazer of the 
Moog synthesizer. Alongside composers like
Wendy Carlos, Bruce Haack, and frequent
 collaborator Gershon Kingsley, Perrey was 
among the first to introduce the world to the
 synthesizer as a compositional instrument,
via notable tracks such as "Musique de
L'infini", "Gossipo Perpetuo", and
"Baroque Hoedown", famously used as
the theme music to Disneyland's Main Street
 Electrical Parade.
Along with many of his contemporaries,
it was inevitable that such an influential
 instrumental composer would eventually be
sampled into hip-hop tracks. His 1970 Moog 
composition "E.V.A." was especially popular
among producers, making its way into tracks
 by Gang Starr, Dr. Octagon, Lord Finesse,
Pete Rock, and innumerable others. To pay 
tribute to this prominent composition,
Kay-Dee Records is proud to present this
 loving tribute to "E.V.A." on a 7" single,
courtesy of French producer DJ Paikan,
who also played sitar, guitar, kobol synth,
and monopoly synth on the track & Mixed by Kenny Dope !
Add to cart