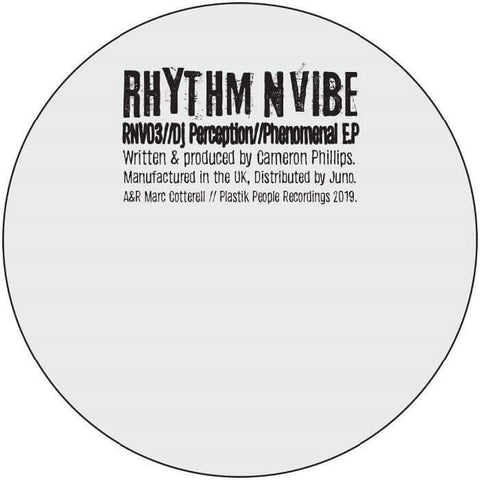 RELEASE
DJ Perception - Phenomenal (Reissue)
LABEL:
Rhythm N Vibe
PRE-ORDER ITEM
Expected in stock between 12th - 26th May
PLEASE ORDER PRE-ORDER ITEMS SEPARATELY FROM IN STOCK ITEMS IF YOU WOULD LIKE TO AVOID DELAYS TO YOUR ORDER/S
Here comes a welcome reissue of a rather in demand classic by the widely revered - and rightfully so - DJ Perception. Opener 'Reverse' taps into a US garage vibe - dusty low slung drums with a four to the floor pattern, plenty of swing and a well treated vocals all finished off with a melodic bassline. 'Flyby' (feat Opus) bumps along to a crips broken beat and sub bass that needs to be heard on a loud system. 'Loose Ends' is raw warehouse music with irresistible bounce and then the soulful vocal smoothness of 'Gonna Make You' might just steal the show at the end. Timeless tackle.
Add to cart