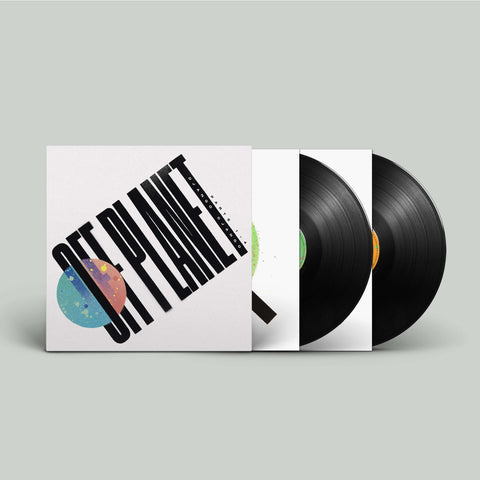 RELEASE
Django Django - Off Planet
LABEL:
Virgin Music
PRE-ORDER ITEM
Expected in stock between 16th - 30th June
PLEASE ORDER PRE-ORDER ITEMS SEPARATELY FROM IN STOCK ITEMS IF YOU WOULD LIKE TO AVOID DELAYS TO YOUR ORDER/S
Entitled Off Planet, the 5th  studio album from Django Django is a 21 track album splitted into four parts. Originally destined to be four experimental EPs but immediately transformed into a proper album when they started the recording session,  Off Planet features some of the most exciting and dynamic music Django Django have ever produced.  Harking back to their more experimental and electronic roots, the album also features guest such as Self Esteem, Jack Penate and others.  Double CD / Double Black LP & Limited Double White LP.  Each part will first be released digitally and day of release of the fourth part , the entire album will be out on 2xCD & 2xLP.
Tracklist
A Side (Off Planet part 1) 1. Wishbone 2. Complete Me feat. Self Esteem 3. Osaka 4. Hands High feat. Refound 5. Lunar Vibrations feat. Isabelle Woodhouse
B Side (Off Planet Part 2) 1. Don't Touch That Dial feat. Yuuko 2. Back 2 Back feat. Patience 3. Squid Inc. 4. Come Down 5. Golden Cross
C Side (Off Planet Part 3) 1. No Time feat. Jack Peñate 2. A New Way Through 3. Galaxy Mood feat. Toya Delazy 4. The Oh Zone 5. Dead Machine feat. Stealing Sheep 6. Dumdrum
D Side (Off Planet part 4) 1. Fluxus 2. Slipstream 3. Who You Know feat. Bernardo 4. Black Cadillac 5. Gazelle
Add to cart