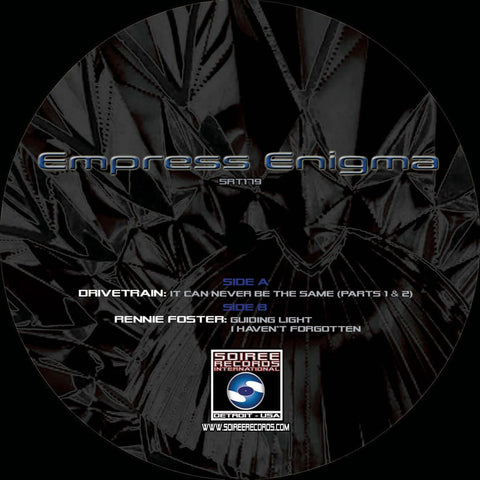 RELEASE
Drivetrain / Rennie Foster - Empress Enigma
LABEL:
Soiree Records International
PRE-ORDER ITEM
Expected in stock between 24th February - 10th March
PLEASE ORDER PRE-ORDER ITEMS SEPARATELY FROM IN STOCK ITEMS IF YOU WOULD LIKE TO AVOID DELAYS TO YOUR ORDER/S
Empress Enigma:
The contradictory language of speech, rhythm and melody generate this musical paradox.

Drivetrain (Detroit, USA) 
It Can Never Be The Same (Parts 1 & 2)
Deep and moody, Part 1 is driven by a captivating bass groove with lush, silky pads constructing a mesmerizing wall of sonic euphoria. The vocal hook echoes the commentary with one simple phrase.
The stripped down Part 2 replaces the drums with hand percussion while Drivetrain shows off his bass guitar chops charismatically with an emotional solo throughout.

Rennie Foster (Vancouver, CAN)
Guiding Light
A ghostly banger, poised in atmospheric essence. Shifting layers of sound harmonize to the unyielding bass line as Alejandra Garcia sprinkles vocal seasoning on top.
I Haven't Forgotten
Built on the foundation of a rock-solid bass progression, the ambience of melodic strings and piano blend an audio sedative accompanied by an airy vocal presence and bits of acid integration.
Add to cart