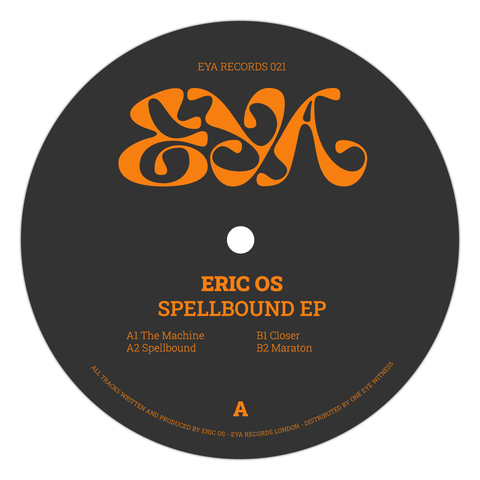 RELEASE
Eric OS - Spellbound
LABEL:
EYA Records
PRE-ORDER ITEM
Expected in stock between 25th November - 9th Decemebr
PLEASE ORDER PRE-ORDER ITEMS SEPARATELY FROM IN STOCK ITEMS IF YOU WOULD LIKE TO AVOID DELAYS TO YOUR ORDER/S
EYA Records further stretches its stellar run of showcasing young, cutting-edge talent for their latest label outing, and continues to shape modern influential club sounds with Swedish-based newcomer, Eric OS.

Delivering red-hot, futuristic progressive rhythms with a sleek and propulsive melodic flair, this is a first-class statement selection of impressively mature and vibrant sounds, for only his second fully-fledged EP.

The title track "Spellbound" dispatches shadowy, hypnotic fairground melodies, and hints of 80's synth-pop stylings, with a wicked, pulsating, electrified energy aimed squarely at serious dancefloors. "The Machine" brings a more introspective moment on A2; with crunchier drums and crystalline deep electro motifs, full of rich, inviting moods.

On the other side "Closer" is a clubby, amped-up bass driver, with layers of bouncing peak time sounds, melted vocal snippets and intoxicating organs. And B2 "Maraton" stylishly rounds off the EP with haunting call-and-response synth lines, for a blissed-out early morning afterparty feel. Expertly intelligent dancefloor electronics.

With a firm finger on the pulse yet again from London-based EYA Records, Eric OS treats us to a notably strong debut offering of imposing, smart and robust club music. Don't miss it!
Add to cart