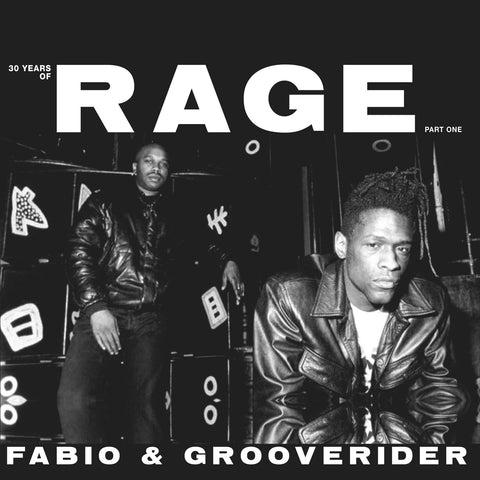 RELEASE
Fabio & Grooverider - 30 Years of Rage Part 1
LABEL:
Above Board Projects
Fabio & Grooverider have been at the forefront of UK dance music for over 3 decades. This is the roots of their story told through music.
The 2 London DJ's are part of the DNA of the global Jungle / D&B movement and they have remained relevant, cutting edge, authoritative and essential to this truly underground art-form since it's inception. RAGE could arguably be the ground zero of Jungle. The party was started at London's cavernous Heaven club by Fabio & Grooverider in 1988, at the height of Acid House fever that was making it's way up and down the motorways, slip-roads, fields and warehouses of the M25 and further beyond every weekend, troubling the nation, the police, your parents and the press as it went. RAGE was a different beast, it certainly channelled some of that Acid energy but pitted it against the new and exciting sounds emanating from Belgium, Amsterdam, Detroit, Sheffield, Essex and Hackney and in turn created a new style, a new sonic attitude and energy in the process. Rumbling bass-lines, narcotic synth rushes and roughly chopped and sped-up breakbeats all merged into a style that we now know as Jungle. Nothing like this had been heard before, this was a brand new style and it was coming out of London's West End and Fabio & Grooverider were the people firmly behind it.
RAGE is approaching its 30th anniversary. Its sonic and cultural legacy is still being felt today, Fabio & Groove are still shutting down raves and festivals every weekend all over the world with their superior DJ sets and musical knowledge guided by their pioneering spirit. This musical selection you hold in your hands, the first of 4 parts, sees them delve into their prodigious memories and record boxes to select a true musical representation of the very beginning of one of the UK's most unique and influential musical movements of the last 50 years. Across 4 x 2 x 12"s compilations we are taken on the journey through the sounds of RAGE, accompanied with track by track notes from Fabio & Groove themselves. This is the sound of the underground, from the inside out.
This is a masterclass in the old-school. The roots. There is no filler here, it's simply ALL killer. Lovingly selected and programmed by the masters - 'The Living Shock' & 'The Ladies Choice'. Produced in conjunction with Above Board distribution and Fabio & Grooverider. All tracks mastered from original sources and fully licensed. Mastering by Optimum, Bristol. Artwork and design by Atelier Superplus. 2019
Add to cart