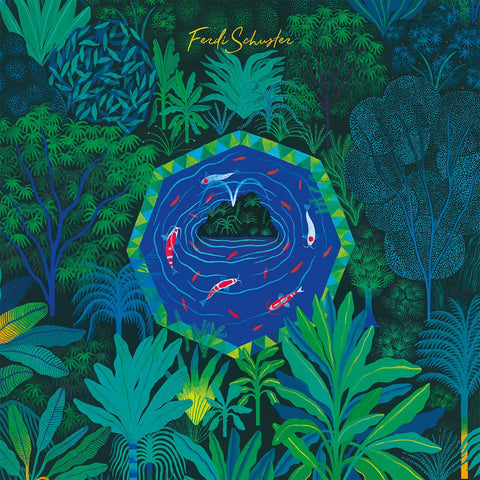 RELEASE
Ferdi - Playing Life
LABEL:
Claremont 56
Four years after wowing listeners with his surprise debut album, All One, Ferdi Schuster is back with a similarly inspired sequel. Taking his distinctive, freewheeling approach to its predecessor, Playing Life  offers a set of inspired instrumentals full of soft-focus grooves, alluring musical motifs, subtle mood shifts and plenty of intricate musical details. In fact, such is the layered nature of the productions, you'll still be noticing new things on your fifth or sixth listen. Those who know Schuster's story and previous work for Claremont 56 won't be at all surprised. Arguably the label's best-kept secret, Schuster ended up on Paul 'Mudd' Murphy's label in 2017 after speculatively submitting a demo. Murphy was blown away by the quality of the publicity-shy multi-instrumentalist's work and asked him to work on an album; two years later, All One appeared in stores and the rest, as they say, is history.
Just as he did on his celebrated debut album, Schuster played every instrument, note, chord and riff on Playing Life, arranging and producing the whole thing at different points between 2020 and 2023. The results are undeniably spellbinding, with the talented artist arguably delivering an even more assured, attractive and entertaining set. For proof, check opener 'Dream Quality', a sumptuous affair in which immersive pads, jazzy guitars, twinkling keys and smooth bass rise above a dubby, minimalistic beat, the steel pan-infused gentle jog towards the dancefloor that is 'A Step Further', and the Balearic ambient jazz masterpiece that is 'Due'. Or, for that matter, the lapping waves and deep, dubbed-out grooves of 'Playing Life', and the starry magnificence of 'Light Minded', where Ferdi offers a few nods to the great Pat Metheny over twinkling synths and sparse, spaced-out beat.
Everywhere you look across the album, you'll find a softly spun, exquisitely executed highlight. There's 'Moving Forms', whose instinctive beat pattern and sun-bright jazz guitars enrich the soul, the marimba-sporting sunset wonder of 'Universal Dance', the chunky dub disco shuffle of 'Pulsing' and the awe-inspiring brilliance of 'Vastness', a suitably star-gazing, effects-laden excursion that provides a fittingly impressive conclusion to an album dripping with emotion-rich sonic gold.
Tracklist
Side A Dream Quality, A Step Further, Playing Life
Side B Due, The Fuzz Version, Osho Again
Side C Light Minded, Moving Forms, Gentle Man, Universal Dance
Side D Pulsing, Lungern, Vastness
Add to cart