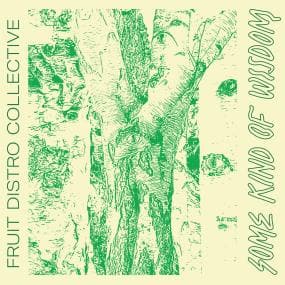 RELEASE
Fruit Distro Collective - Some Kind Of Wisdom
LABEL:
Dopeness Galore / Records We Release
Dopeness Galore / Records We Release
"A newfound father's attempt to pass wisdom on to his children."
- Spring 2019 -
"As my girlfriend's pregnancy was steadily treading along, I settled into my home studio in the attic of our new house. In our previous apartment I had a tiny room which could hardly fit my recording gear, let alone my drums which were still sitting at my parents' house eating dust. Now that we'd moved into a bigger place, I had confiscated a part of the top floor to build my studio. This time I had just enough space to fit my drum set together with other percussion instruments, Fender Rhodes and synths. This sparked a whole new world of creative opportunities.
At the same time I also started to think about what kind of wisdom I would want to pass on to my children. I started writing down my thoughts. Little anecdotes, ponderings and things to think about as a human being.
These two events took place in parallel and once I actually started jotting down my first compositional ideas I saw the concept right there in front of me bright as day.
This LP has been written and recorded as inspiration to think about things and to keep re-thinking again and again to strengthen the knowledge of self.
Fruit Distro Collective is heavily inspired by Jazz composition, Hiphop drum sounds and the percussive elements of Afrobeat and Afro latin styles. "
Add to cart