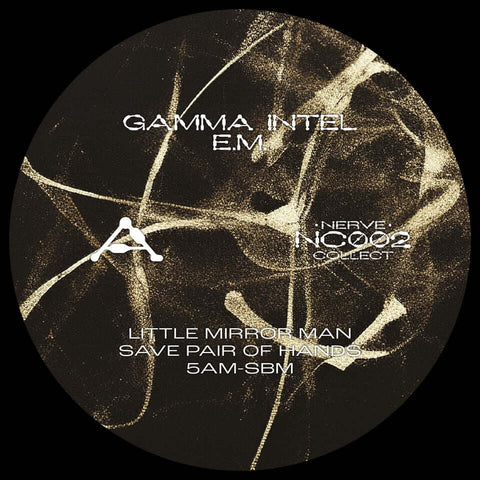 RELEASE
Gamma Intel - EM
LABEL:
Nerve Collect
PRE-ORDER ITEM
Expected in stock between 24th March - 7th April
PLEASE ORDER PRE-ORDER ITEMS SEPARATELY FROM IN STOCK ITEMS IF YOU WOULD LIKE TO AVOID DELAYS TO YOUR ORDER/S
Nerve Collect co-founder Gamma Intel follows up label partner Identified Patient's inaugural release with his thrilling E.M. EP. Across six club-ready cuts, the Dutchman explores the spaces where bass, techno, electro and acid all intersect.

Laurens van de Werken is Gamma Intel, a project that has roamed through a number of different worlds since debuting in 2017. From early outings of chugging techno and dark wave on brokntoys to more inventive rhythmic explorations and futuristic sound designs on Pinkman via deconstructed jungle on Mechatronica, it is impossible to define what he does. What unifies it, though, is his ability to twist and contort sound in surprising new ways. For proof, listen to him spread his sonic wings on Rotterdam's Operator Radio, or play at some of the hidden underground gems around Europe that deal only in forward-thinking sounds and you will get more insight into his love of leftfield electronics. It's the same story with the Elektrostaat collective he is part of: they host musically adventurous club nights in Rotterdam that offer a different take on electro, acid and techno. It's best to forget handy genre tags, though, because as this EP proves Gamma Intel is always on the move.

'Little Mirror Man' opens up with an elastic but thumping broken beat. A flurry of jungle drums rain down next to scratched metal stabs, bleep-techno melodies and all underpinned with heavy bass rumbles. 'Save Pair of Hands' doesn't let up, with knick-snapping hits and earth-shattering bass weight. As heavy as the groove might be, there is still plenty of room for deft synth designs to bring plenty of emotion. On '5AM-SBM' you are tugged in many directions at once - nimble drums dart about beneath prickly percussion and flaming hits that have a mind of their own. Although the low end is distorted, the details up top are well-defined and given plenty of space to make their mark.

The flipside takes off on turbocharged techno-electro fusion 'Sleep & Cry.' It's a devastating and visceral drum track that also packs an emotional punch as celestial chords suspend you at the doors of heaven. 'Panthera Leo' soundtracks the end of the world as acid lashes about amidst controlled but unrelenting drum chaos and finally, the drilling bass and frantic drum programming of 'Trust' is another all-powerful club track. Its dark energy sucks you in for a white-knuckle ride to remember.

This EP finds Gamma Intel pulling off plenty of unusual tricks and twists on his way to conquering the dance floor.
Add to cart