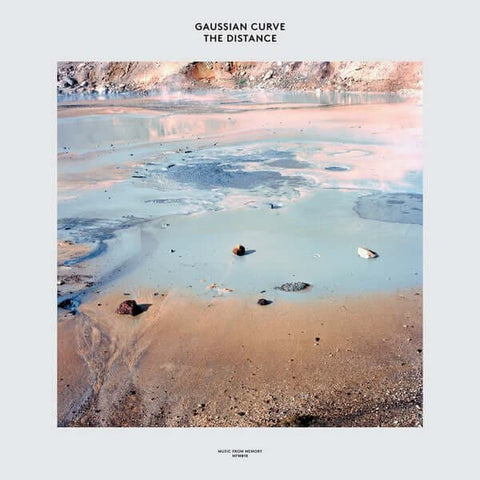 RELEASE
Gaussian Curve - The Distance
LABEL:
Music From Memory
"In the spring of 2016, Gigi Masin, Jonny Nash and Marco Sterk got together in the studio for the first time since they recorded Clouds, the critically acclaimed debut album from their Gaussian Curve project.

By the time they reconvened in Sterk's new studio in Amsterdam, a stone's throw away from the temporary, second-floor space where they recorded Clouds, much had changed. When they first got together in March 2014, it was for a spontaneous, weekend-long exploration of shared musical passions. They were merely three new friends expressing themselves, and having huge amounts of fun in the process.

By the time they got together again last year, the album they recorded on that famous weekend had taken on a life of its' own. To their surprise and delight, Clouds had become one of the most admired ambient albums of the 21st century.

They'd initially reconvened in the studio to rehearse for their first live performances. It soon become clear that all three members were brimming with ideas for new Gaussian Curve material. Over the four days that followed, and fuelled by the same spontaneous working method that drove Clouds, a new album began to take shape.

Although their methodology remained the same, the inspirations were different. Whereas Clouds was intimate by design, The Distance reflects more on spaciousness, distance and time. It is instantly recognizable as a Gaussian Curve record, but feels different in scope and tone.

The Distance is a different musical beast to its' predecessor, but shares the same timeless, emotion-rich feel that made Clouds such a hit. While the fundamental ingredients remain the same – Masin's masterly piano and synthesizer work, Nash's blissful, meandering guitar lines, and Sterk's synths, drum machines and production – The Distance is an album brimming with fresh ideas, and more complex musical arrangements. It's the sound of three confident collaborators crafting magical musical moments in their own unique way.

This expansive new approach can be heard on "T.O.R", where Nash's haunting trumpet and hazy guitars wrap themselves around the kind of hypnotic piano and synth patterns that were once the preserve of American minimalist composers, in the gently breezy positivity of "Four For You", and in the loved-up chord progressions and bubbly electronic beats of "Breathe". Close your eyes, and you'll also hear it amongst the sunrise shuffle of "The Distance", Masin's hushed vocals on "Another Place", and within the kosmiche influenced sensuality of "Ceremony".

With The Distance, Gaussian Curve is embarking on a new journey. Happily, we can all share their adventures."
Add to cart