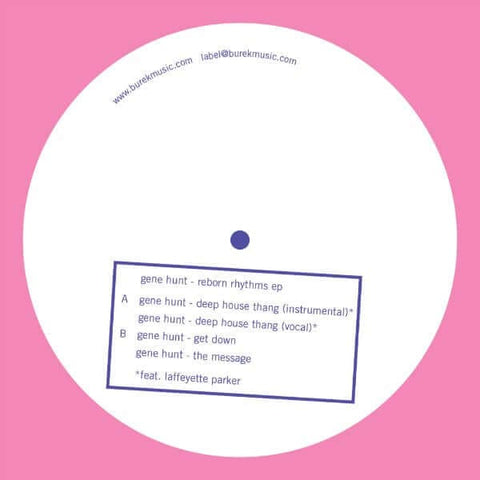 RELEASE
Gene Hunt - Reborn Rhythms EP
LABEL:
Burek
Burek is turning 18 with this one and we're honoured to have the opportunity to welcome one of Chicago's most interesting producers to our family. His name is Mr Gene Hunt and if you've been into proper house music, it's impossible to miss one of his records.
For this EP, titled "Reborn Rhythms", Gene delivers 4 full-blooded house bombs.
All tracks are going beyond 8 minutes of length and are making good use of that time. Common denominator of all tracks is the irresistible and effective groove which is almost challenging you to try and not to move to it.
The A side is reserved for two versions of already anthemic-sounding "Deep House Thang" featuring Laffeyette Parker on the vocals. First up is the instrumental mix, and the second a full vocal. Mr Hunt managed to come up with a skillfully balanced juxtaposition of a latin-sounding groove, catchy funk-sounding synth hook and gorgeous cascading pads. By the point the vocal drops, the whole room understand that the words are true. Full vocal version is musically same as the instrumental but puts a much bigger spotlight to Laffeyette's soulful vocal. He's much more present and is developing the theme through several verses, in comparison to the instrumental one where only the chorus appears.
First cut on the B side, "Get Down", is a ready-for-the-floor house track which during the first 20 seconds locks you into a heavy guitar-based bassline groove which bites like a bulldog. Throw Gene's drum programming into the mix, with several different vocal chunks exchanging roles and you've got something you'll be reaching for a lot. Serious house music vibes.
Second cut on the B side, "The Message", could be described as the "calmest" or the "deepest" of the batch but that description doesn't do it justice. It's a beautiful peak-time house song which manages to build and move quite a lot without losing you in the richness of its piano chords, airy choir-reminiscent synths and beautiful strings. Simply timeless.
Vinyl, 12", EP
Add to cart