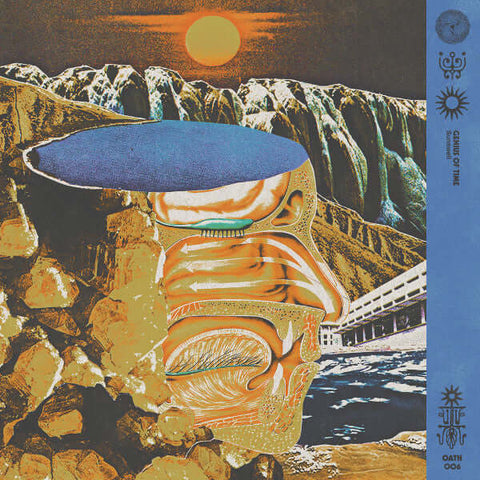 RELEASE
Genius Of Time - Sunswell
LABEL:
Oath
Media Condition: Near Mint
Sleeve Condition: Near Mint
On our next release, Oath are extremely proud to present the latest EP from duo Genius Of Time, which continues to showcase the pair's deep affinity with charming melodics, succulent rhythmic structures and an overall deep love affair with warm, soothing electronics.

Genius Of Time consists of Nils Krogh and Alexander Berg, both of whom have been actively making music for a good while now but began their journeys as Genius Of Time all the way back in 2010. There's a deepness to their music which is hard to define in its perceptual and physical beauty, with each record they have released concerning itself with finding the right balance between ethereal textures and technical application. This finely struck relationship has allowed the duo to really explore the parameters of their sound, engaging the listener via sequences which take their time to unravel and hit all the right notes when the going gets good. From jazzy steppers through to bouncing 90s inspired gems, there is little which the pair feel is off the table, and that approach is indicative of a healthy mindset towards experimentation and ensuring that room is always found to grow into and dwell deep within. Giving and taking is always a great sign within electronic music, and Genius Of Time provide the kind of breathing space within their music which invites you in and takes you to very specific and magical kinds of places.

This element of evolution is present and correct as you slide through their previous releases, which have seen the duo pop up on a number of the best labels going. Their early works, which include the likes of 'Same Old Place' (2010), 'Drifting Back' (2011) and 'Gliese 581g' (2011) all drift along at a beautifully laid back pace, allowing for maximum engagement through the speakers and as a totality do much to draw listeners into their emerging palette of sonics. Records that followed, which included 'Tuffa Trummor Med Synt' (2012), 'Juno Jam EP' (2014), 'Kepler 186f' (2016), 'Voxshot' (2017) and 'Peace Bird' (2019), shifted the focus into the clubs, the dusty after-hours settings, the warm after glow which arrives with the morning sun. If their original sound was all about pairing grooves with imaginative and searing hot melodic layers, then the second half of their discography was all about the positive aspects of enveloping the dance in a hypnotic haze.

As two differing sides to the emotive spectrum, there is plenty here to dive into, and helps to serve us up very nicely indeed to their latest effort, 'Sunswell', their first record together in three years. Inkeeping with their most recent efforts, the duo waste no time in bringing forward some truly special vibes, with the title track kicking things off in spectacular fashion. Simmering, engrossing synths start preceedings, before a delightful breakbeat slides into view underneath, with 90s leaning vocal samples fuelling the momentum as we slide onwards and upwards. The additional key work which comes into view around the half way mark ensures that the heart and the soul are both very much fulfilled. 'Taurido Shuffle' comes next, and this one continues the notions superbly, with a dynamic arpeggio line that merges expertly with the stepper beat that emerges underneath, as all manner of inspired melodics and rhythmic motifs evolve into the track as time passes by. To wrap things up, we have 'Purple Motus', which takes things into deep and dubby territory with a hard hitting bass undercurrent transposed with incredibly soft whistles and seeping keys that slide up above the rhythm, and its absolutely wonderful.

So why not join us on the veranda, the stage or the open road, and collectively bathe in this duo's supremely executed sound design and all it has to offer - a perfect uptempo record that eases you into summer in all the right ways….. 


Add to cart