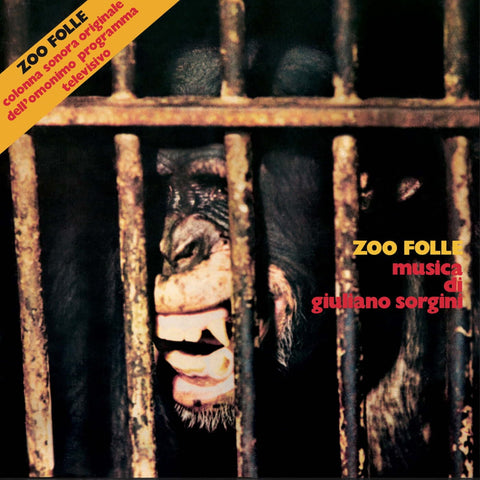 RELEASE
Giuliano Sorgini - Zoo Folle
LABEL:
Four Flies
Double vinyl LP | Extended reissue
All tracks remastered from the original master tapes.
And here it is! For the first time ever, Zoo Folle in its full, extended glory.
This double LP contains both the soundtrack as released in 1974 (sides A and B) and previously unreleased gems (sides C and D).
Back in 2016 we put out the first official reissue of Zoo Folle. It sold out in a matter of months, leaving many vinyl collectors hungry for more. Quite serendipitously, the following year we found ourselves digging through Giuliano Sorgini's personal archives to prepare what would become Africa Oscura and stumbled upon a few mysterious reels that could be traced back to Zoo Folle. Imagine our joy when we realized that they contained the complete recording sessions of the original soundtrack, including unreleased material and never-before heard alternate versions! It was a no-brainer to start planning this extended reissue.
Already a phenomenon among collectors and experts, not only does Zoo Folle it keep winning more and more recognition, but, together with The Living Dead at Manchester Morgue and Under Pompelmo, it has established Sorgini as one of the great Italian composers of his generation.
And this is no coincidence. Zoo Folle is Sorgini's most committed and personal work. It reflects at once his beliefs as an animal rightist and his deep friendship with TV director and long-time collaborator Riccardo Fellini (brother of La Dolce Vita director Federico). It was Fellini himself who asked Sorgini to score his documentary on the living conditions of animals in zoos in Western metropolises (Rome, London and Paris in particular).
Originally broadcast by RAI in three primetime episodes, Fellini's exposé sharply contrasts the lives of caged animals with the freedom they experience in nature and wildlife reserves such as the Amboseli National Park in Kenya, Africa.
For his part, Sorgini offers perhaps his grandest score ever – a magnificent, multifaceted soundtrack that brings together a variety of instruments and the best musicians available at the time, from the lavish string orchestra recorded at the Fono Roma studios (a dream come true for someone who had not penetrated the inner circle of A-list composers like Morricone), to the angelic voice of Edda Dell'Orso, who conveys the sweetness and melancholy of the African sunset in Red, Old Skies.
Also performing on the soundtrack are exquisite soloists – all long-time friends of the composer. Nino Rapicavoli, for instance, whose flute adds a magical touch to the psycho-funk of Mad Town and the groove of Slaves, as well as Enzo Restuccia, whose afro-tribal percussions have made Ultima caccia a legendary track especially among lovers of Balearic grooves, and Enrico Ciacci, whose classical guitar soars beautifully over the nostalgic and poignant Chains. Not to mention the fact that Sorgini himself laid down the foundation tracks for the album in the small studio he had in the Prati neighbourhood in Rome, playing the piano, drums and several synthesizers.
So, what are you waiting for? Get your turntables ready for the full version of Amboseli (14 minutes of sheer bliss versus less than 6 in the original record) and for stunning, previously unreleased alternate versions of many other themes composed by Sorgini to celebrate the beauty of the savannah.
Add to cart