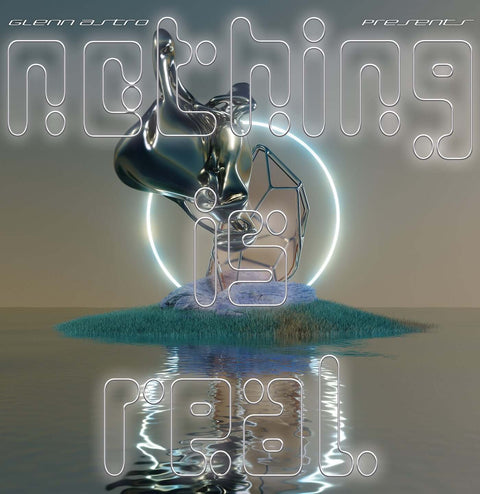 RELEASE
Glenn Astro - Nothing Is Real
LABEL:
Tartelet Records
PRE-ORDER ITEM
Expected in stock between 5th - 19th May
PLEASE ORDER PRE-ORDER ITEMS SEPARATELY FROM IN STOCK ITEMS IF YOU WOULD LIKE TO AVOID DELAYS TO YOUR ORDER/S
Taking his cue from seminal mix albums of days gone by, Glenn Astro is back with a compilation of original productions from a cast of fictional artists on Nothing Is Real. Across 13 tracks, the Tartelet mainstay celebrates the thrill of discovery which came as standard listening to new entries in series' like X-Mix and DJ Kicks, moving between head-nodding downtempo, ambient techno, broken beat and all manner of chill-out room delights. You might be left wishing artists such as DJ 1999, Mental Trance and Eye Soul8r had actual discographies to go and explore, but as Astro himself is keen to point out, "nothing is real."

Astro has never been shy to embrace classic tropes and tones in his past albums for Tartelet, Apollo and Ninja Tune, but he's drawing on a different set of influences for this album and embracing the flexibility afforded by using imagined aliases for varied production styles.

"I had the idea to do a mixtape, preferably with unknown dance tracks that also reflect that whole 90s/early 00s vibe," Astro explains. "Instead of digging for some records that haven't been sourced yet or trying to find those 'forgotten' treasures, I made the tracks myself. That way I had full control over BPMs, feel and the whole arrangement of tracks. I thought of a few alter egos and started producing the tracks in the order that I intended to play them in a mix. In the end a whole compilation of tracks emerged."

While the concept might suggest you're going to hear a lot of over- familiar sounds, don't be fooled. Astro is inspired and inquisitive, channeling the experimental spirit of the 90s and early 00s when electronic music was still continually being redefined in all kinds of micro-scenes. In many cases, Astro's productions slip into the cracks between genres rather than specifically mimicking a style.

Even if the reference points are detectable, the end result is a curious blend as indebted to ambiguity as the overall concept of the compilation. Like the spine-tingling sensation of hitting play and awaiting the waves of unknown sonics on one of those seminal mixes, you never know exactly what you're going to get as you take the trip through Nothing Is Real.
Add to cart