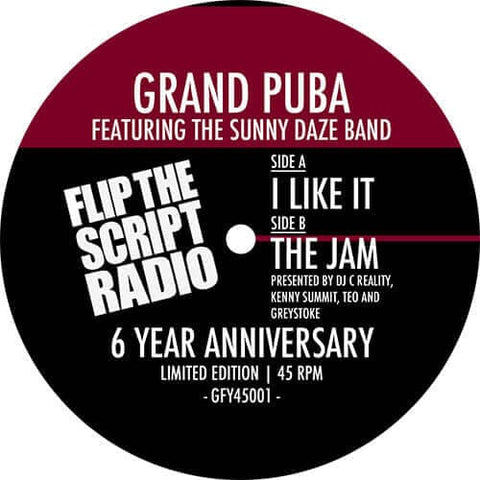 RELEASE
Grand Puba Featuring The Sunny Daze Band - I Like It / The Jam
LABEL:
Good For You Records
In their 6 years on air, Flip The Script Radio has become the industry standard, the go-to radio show where fans and industry heads alike flock to hear the next hip hop superstars before they blow up. Steeped in the rich history of the scene, FTSR's focus on real MCs, genuine turntablism and their 'do it for the culture' approach has garnished them praise from every corner of the hip hop universe.
To celebrate their 6 Year Anniversary, Flip The Script Radio has joined forces with Good For You Records and one of the greatest MCs of all time for a very special, limited edition 7" release. We are beyond excited to present this work of art by a cultural icon, one of the best lyricists of all time, Grand Puba. This special edition vinyl release revisits one of Puba's most beloved classics "I Like It", reinvented with an 8 piece band, an acoustic version, featuring freshly re-spit verses by the rap legend himself, breathing new life into this crowd favourite.
Add to cart