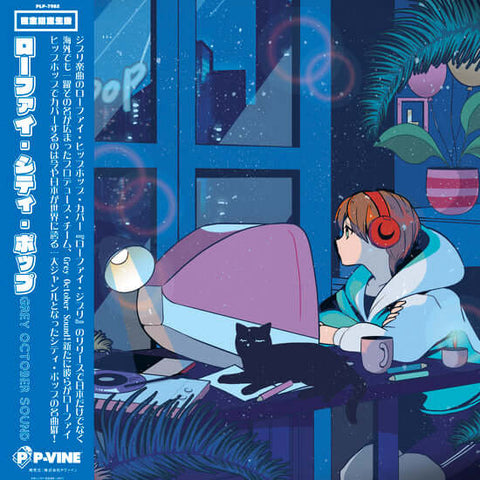 RELEASE
Grey October Sound - Lo-Fi City Pop
LABEL:
P-Vine Japan
PRE-ORDER ITEM
Expected in stock between 4th - 18th August
PLEASE ORDER PRE-ORDER ITEMS SEPARATELY FROM IN STOCK ITEMS IF YOU WOULD LIKE TO AVOID DELAYS TO YOUR ORDER/S
Following the release of Lo-Fi Ghibli in 2022; lo-fi hip-hop covers of classic Ghibli songs, the underground hip-hop producer Grey October Sound and P-VINE delight to release a cover album of lo-fi hip-hop arrangements of Japanese City-Pop classics!
After their successful debut for worldwide with "Lo-Fi Ghibli", Grey October Sound is gaining recognition not only in Japan but also in overseas. The album features world-famous city-pop classics covered in lo-fi hip-hop arrangements, including covers of "Mayonaka no Door ~ stay with me" by Miki Matsubara, "Fly-Day Chinatown" by Yasuha and Taeko Onuki's "Tokai", which opened up the recent global popularity of city pop, as well as classic tracks by Tatsuro Yamashita, Mariya Takeuchi and Yumi Arai. The cute artwork with the traditional style of Lo-Fi Girl and city pop is by Rika Hase, who also designed the Lo-Fi Ghibli cover.
Add to cart