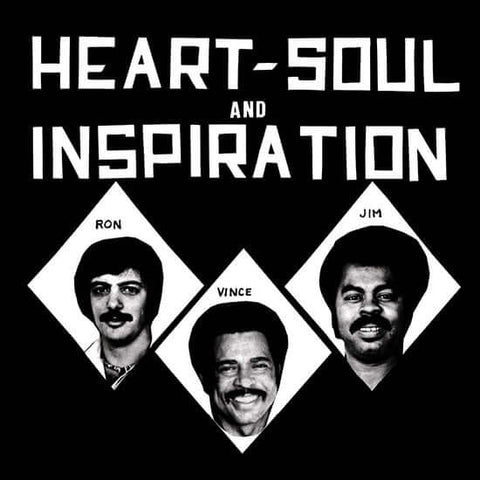 RELEASE
Heart-Soul & Inspiration - Heart-Soul And Inspiration
LABEL:
Tidal Waves Music
Little is known about the mythical band 'Heart-Soul & Inspiration' and their band leader, L.A. drummer and producer Vince Howard…The crooning Howard got his start in 1957 on Herb Newman's Era label where he released a bunch of excellent Doo Wop, Funk & Soul singles. Over the ensuing decade Howard slowly began piecing together his "Orchestra" consisting of bassist Jimmy Soul, guitarist Ron Carr, and pianist John True.
Howard's Heart-Soul & Inspiration Orchestra cut their self-titled (and only) album in 1974 for John Spriggs' Los Angeles-based Viscojon concern under the watchful eye of R&B godfather Johnny Otis.
The result was the birth of an astonishing piece of art filled with playful sexy moans, climaxing grooves and soulful hooks. One of the many highlights on the album (and clocking in at an epic eleven minutes), Vince Howard's "I'm Gonna Love You More" is a tantric reimagining of Barry White's 1973 sexually charged classic. Where White was content delivering a subtle and syrupy innuendo, Howard transformed the break-heavy track into a meandering funk workout.
Sadly, after their Barry White/Isaac Hayes facsimile LP failed to gain traction, the group released their final recordings—"Funk on Down" b/w "Fallen Angel"—for Viscojon in 1975 which became a hit among prominent DJ's in the nightclub circuit. This ushered in the end for Howard's Heart-Soul & Inspiration project.
After the band split up, Vince Howard went on to pursue his acting career and landed roles in television shows such as Star Trek, Knight Rider, Cheers, Mission: impossible and starred in classic films including Trouble Man and Lethal Weapon. Talk about a career switch!
Heart-Soul & Inspiration was a true example of a bright light burning out way too quickly. Thankfully we are left with the unique (and very rare) document that is their self-titled album. Almost impossible to get ahold of…a well-deserved reissue has been long overdue. This is an album that deserves a prominent place in every serious Funk & Soul enthusiast's record collection!
Tidal Waves Music (in collaboration with The Numero Group) now proudly presents the first ever vinyl reissue of this rare Soul-Funk album (original copies tend to go for large amounts on the secondary market) originally released in 1974 on Viscojon Records. Now finally back available as a limited 180g vinyl edition (limited to 500 copies) complete with the original artwork and obi strip.
As an extra bonus feature, the limited color vinyl versions of this reissue will also include an exact reproduction of their classic 1975 'Funk On Down/Fallen Angel' 7inch EP.
Add to cart