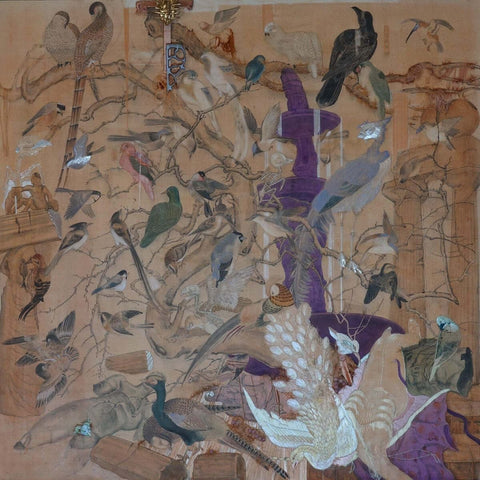 RELEASE
Howie Lee - Birdy Island
LABEL:
Mais Um Discs
Media Condition: Mint
Sleeve Condition: Mint
Swirling layers of OST-style sound design, dreamy choir vocals and traditional Chinese folk combine across eight dynamic and transportive tracks on Birdy Island, the latest album by Beijing-based producer/artist, Howie Lee, due out in April 2021 on Mais Um. Fresh off the back of several high impact, club-centring album releases on Maloca, SVBKVLT and his influential, Do Hits label, on top of remixes for artists including Lawfawndah, Charlie XCX & Sophie, Lee presents his most organic and expansive project to date. Written, produced and recorded entirely by Lee at the back end of 2018 (with the exception of the album's resident fourpiece choir made up of rising Beijing artist, Fishdoll, Shanghai singer/producer, Yehaiyahan and West by West, with Lee himself also included), Birdy Island's almost exclusively acoustic yet broad sound palette threads continuities between ceremonial Taoist music, early Buchla synth experiments, and FWD nights at London's Plastic People.
This album just came very natural. It was all recorded little by little. Layer upon layer. The approach was to just record. I had all these instruments around me and I just thought, i'm gonna play and keep playing". Howie's latest offering is as enchanting as it is boundlessly imaginative. "I've always had this concept in my mind about making an album based around an island". Loosely based around Lee's own long- formed concept of a floating Sicilian theme park, co-inhabited by both birds and ancestral spirits, Howie remarks: "Birdy Island to me is a palace in the clouds and the birds re worshipped like Gods. Not like a western God though." Reminiscent of Hayao Miyazaki's Laputa (in the 1986 film Castle In The Sky), Lee's Birdy Island has been built by a Chinese investment company seeking to re-sync our relationship with the spiritual and natural world after years of economic collapse and degradation, and who invite Howie to compose the park's soundtrack. Inside Birdy Island's 30-minute gallery of collaged sound, Lee draws on a wide history of traditional pan-Asian music, filtered through his unique lens of contemporary electronic production.
Add to cart